Web Summit is where the giants of the web assemble. Forbes calls it "the best technology conference on the planet"; Inc. Magazine, "the largest tech conference in the world"; and The Guardian, "Glastonbury for geeks". Since its inception in 2009, Web Summit has been seeing enormous growth in attendance, with Fortune 500 companies, leading investors, rising startups, and the world's largest media outlets taking part every year (and in greater numbers than ever before). With more than 11,000 CEOs and 1200 speakers, about 70,000 attendees from over 160 countries, 24 tracks and over 200 hardworking employees, the event broke all its previous records and became a huge success in 2018. 
What is Web Summit?
Web Summit is a 4-day technology event held in November every year in Lisbon, Portugal. Founded in 2009 by Paddy Cosgrave, David Kelly, and Daire Hickey, Web Summit sprouted from Dublin, Ireland and later on, in 2016, it was moved to Lisbon. Today, it's considered to be the largest tech event in the world, with partners ranging from Fortune 500 companies to aspiring start-ups and with attendees representing a wide range of industries and professional roles, including CEOs, founders, investors, subject-matter experts, journalists, celebrities, policymakers, and heads of state. The overarching goal to bring together such a diverse and unique mix of talent, according to Web Summit, is to ask them a simple question: "where to next?" In other words, Web Summit wants to have a crack at the emerging tech problems and get to the heart of what may redefine the global tech industry in the foreseeable future. 
Besides the flagship summit in Lisbon, Web Summit also organizes many other sister events across the world, including Collision in Toronto, RISE in Hong Kong, SURGE in Bangalore, and MoneyConf in Dublin. 
Where is Web Summit Heading?
With the growth of Web Summit, the turnover and profitability of the firm have also been steadily rising. According to Independent.ie, an Irish news site operated by Independent News & Media (INM), the gross profit at Web Summit has risen to about $17.5 in 2017. Moreover, Portugal, the city which hosts the events, is also having its fair share of the growth pie. In 2018, Web Summit signed an agreement to keep the event in Portugal for the next ten years, creating novel opportunities for the city to boost its own tech industry. Portugal will not only benefit from the direct revenues the event generates — some local authorities estimated it to be around $342 million in 2018 — it will also help stir up the city's ambitions to build a sustainable ecosystem for startups and tech companies. As Paddy Cosgrave, the event founder, comments, "This is a city going through a rebirth, it's a start-up city, it's being rebooted." 
Nine years ago, Web Summit entered the events industry with a humble start, but nothing was the same in the years that followed. By 2018, the summit gathered over 70,000 paying participants in contrast to the 400 attendees eight years ago. Today, Web Summit offers its participants open access to over 24 tracks (that take place across nine main stages), covering everything from deep tech to music, healthcare to corporate innovation, startup university to SaaS, and AI to robotics, auto tech, and more. 
How Well is Web Summit Faring on the Internet?
Every year around September and October, the keyword 'web summit' starts gaining sudden traction on the web. In the month of November (that's when the event takes place), it reaches the peak before tailing off in December. The trend has been fairly consistent since the tech event first drew people's attention on the web. In November 2016, the number of searches for the keyword 'web summit' hit a record high, reaching over 300,000 searches in a month's time. However, the numbers seemed to have gradually decreased in the years that followed. In November 2017, it fell back to 246,000 and, by November 2018, it further dwindled to 201000.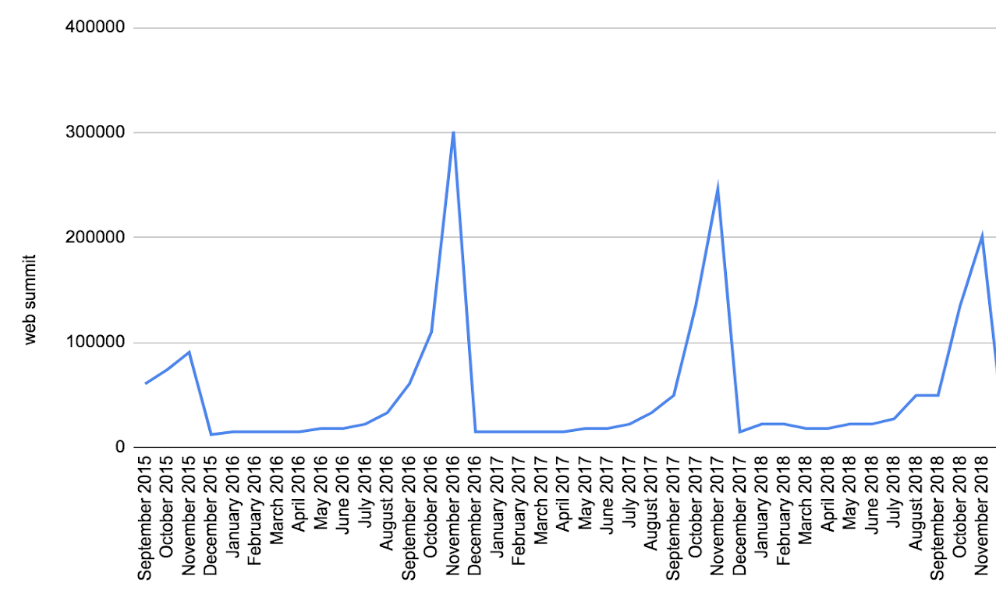 Other variant keywords with average monthly searches ranging from 100 to 5,000 (for the last few years) include web summit lisbon, web summit 2018, web summit portugal, web summit 2015, web summit alpha, web summit jobs, web summit ticket price, web summit live stream, and decentralized web summit. We have also assessed the general sentiments of web users on Twitter (using our suite of analytics tools) by sifting through some 28,000 tweets. It appears that the majority of analyzed tweets (57%) about the summit are positive, about 34% of the tweets are neutral, and only about 8% happen to be negative in some ways. 
Is the Web Summit 2018 Worth a Try?
Networking lies at the heart of the Web Summit. If you are an individual or startup that cares about building networks and gathering innovative ideas, the world's biggest tech event is where you can go to drive your goals. From household names to the new generation of tech and from the world's largest media outlets to the world's leading investors, the opportunity to network, share your story, and get to the next level of success has never been closer. Clearly, Web Summit is the premier event where the giants of the tech industry assemble to share their thought-provoking ideas and inspire attendees to great things. You can join it this November in Portugal and make the most of the learning, networking, and business exposure opportunities to help you drive your business and professional goals forward.