Whether you're a small, independent business or someone who generates billions in profits, creating this original content is necessary. Many businesses rely on website content writing services to provide engaging, informative, and SEO-friendly content. 
What Are Content Writing Services?
A content writing service can be one of two things:
A content creation tool: These tools assist your content creation and can improve your existing content.
Outsourced content creation: You can outsource your content creation work to these services. The service usually uses freelancers and agencies to develop SEO articles and content editing. 
When you outsource your content creation to a content writing service, it's best to work with professionals who understand what makes content engaging and what makes content rank.
5 Content Writing Services Tips to Get Back Better Content 
To get the most out of your content services, you need to brief the service with enough information for the writers to understand what you need and what your goals are. 
Ensure your brief clearly outlines your goals, audience, competition, and keywords. Here are 5 tips to create a content writing service brief to get back better content:
 1. Plan Your Goals
It sounds simple, but you'll need to start by making sure that your goal for the content is clear. 
You'll need to understand how it'll affect your site content and marketing on a larger scale overall. This will help keep the content you get back clear, on point, and ready for success. 
Using a centralized Marketing Calendar to outline your goals for the quarter can be a great place to start. Once you've highlighted key dates that you need to create content around, you can then move into scheduling the creation of more granular content focused on these events.
Having a dedicated tool to keep track of your objectives is invaluable, not only for the person creating the content but for your team at large. The Marketing Calendar allows you to distribute tasks between team members and share their individual calendars.
You can also even track your campaign stats and performance and grab data from Google Analytics, so that you can see exactly what's working or isn't working.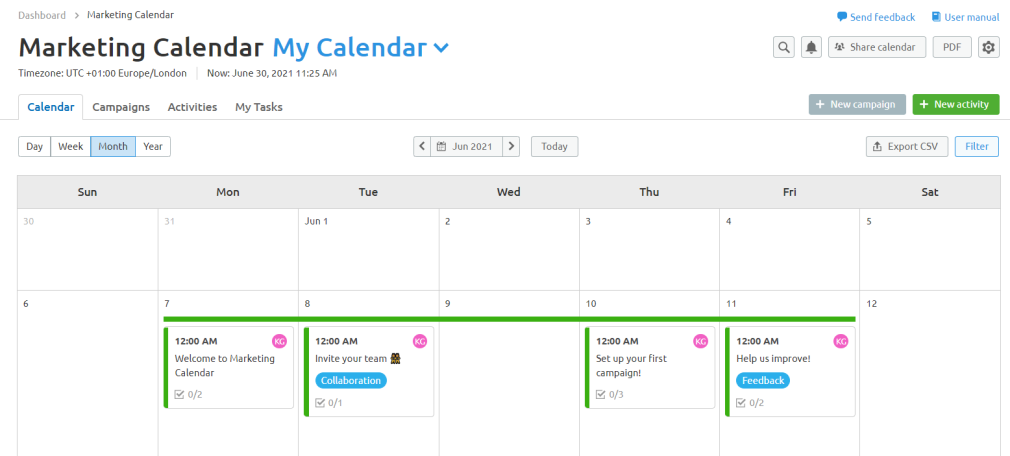 2. Get To Know Your Target Audience
Once you have a clear understanding of what the goal of your content is, you will then need to specify who the audience is, for your content. You will need to consider:
Who are they? 
How old are they?
What education do they have?
How will they be consuming your content?
What types of content do they respond well to?
What other businesses/content do they engage with?
Your audience is the most important demographic to your business. Businesses spend a lot of time adjusting to Google so that they can rank, there's nothing more imperative than actually really getting to know who your audience is, and what content they are likely to respond to. 
For example, there is little point in writing a great piece of content about the benefits of growing your own vegetables, when your audience actually wants to know how they can purchase vegetables from your company!
While it's great to want to create content about every single aspect of your business or hobby, this isn't necessarily going to create engagement from the audience on your website.
You can get your audience data from research and using tools. The Traffic Analytics tool can help you to track user behavior on-site and discover user preferences as they navigate around the internet. 

Another great feature of this tool is that you can also see what your competitors are up to and compare their audience with your own so that you can establish which areas need your attention.
Using this tool, you'll be able to see if, when, and where your competitors' website may be underperforming so that you can swoop in with changes to your own website. You can also monitor trends within your sector and compare traffic volume from any website you choose. 
3. Research Your Keywords
Understanding your audience and your goals are important, but for your content to rank, you also need to understand what keywords to use. 
Choosing your keywords is a big task as there are lots of different types of keywords that you should use depending on who you're targeting and what the goal of your content is. You should consider keywords like:
Short tail keywords are any kind of search phrase with only a word or two. They are very general and refer to broad topics. For example, "Nike trainers" is a short-tail keyword. These keywords are useful for generic content, like category pages and blogs. 
Long tail keywords are longer search terms. They are typically more specific about the topic and make it clear what the user wants from their search. For example, "Nike breathable running shoes for women" is a long tail keyword. These keywords are useful for more specific content like a category filter page but can also be useful for generic blog content. 
Product Specific Keywords
Product-specific keywords are search terms that include only the name of the product. For example, "Nike Air Max 270." These are useful keywords for product pages, but less useful for more generic category pages and blogs. 
Geo-targeting keywords are search terms that are specific to a location. Usually the user is searching for something with local intent like 'Nike trainers near me'. These keywords should be about a specific area that you offer your product or service in, so they are most useful for location and blog pages. 
4. Keep A Close Eye On Your Competition
Sometimes you can have content written that you love, but it still doesn't rank as you would expect. Try avoiding this by working with your competitor's successes or failures.
When you are ready to write your content brief, it is a good idea to list your competitors and any thoughts you have on their content. You need to be mindful not to plagiarise any competitor's content, or allow their tone of voice to become your own.
Understanding and referencing your competition in your content brief is a vital way of reacting to any new and exciting content.
Once your content is live, don't be afraid to make updates. Search engine rankings change often, as well as your competitor's activity. Keep your content fresh and competitive with regular updates to it. 
5. Don't Be Afraid To Outsource
It's really important to remember that outsourcing content isn't an act of defeat. Content takes time and practice; sometimes adding another pair of eyes into a project can work wonders for your content creation. 
We found that 78% of marketers only have between 1-3 content creators within their digital marketing team, which can lead to heavy workloads and strict deadlines. Outsourcing content is easy and effective, and you shouldn't be afraid to try it. 
Semrush can become a key player in your search for SEO content writing services, tips for better content, and useful tools to cover all areas of Digital Marketing. Ordering specific content pieces from the Semrush Content Marketplace ensures that you receive fast delivery of SEO Optimised content, written by our team of expert Content Writers.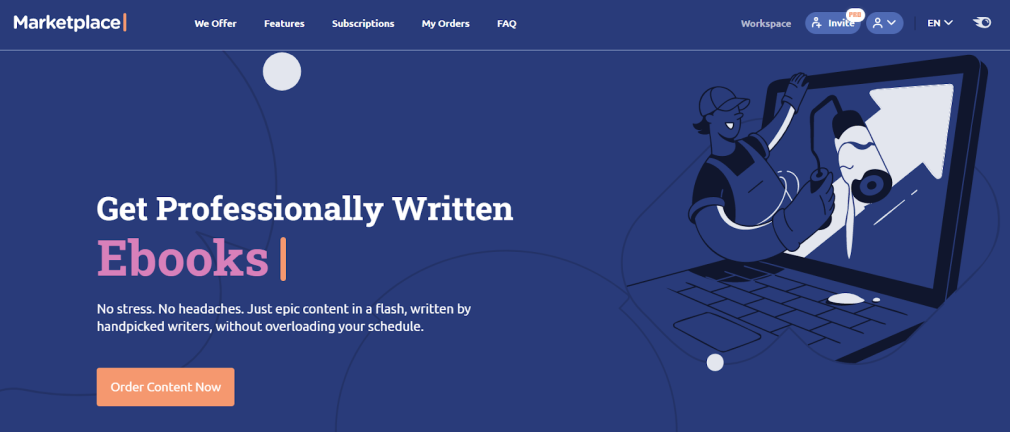 Our experts will work with your brief to create content that can help gain more visibility for your business thanks to our knowledge and application of SEO, an increase in leads and sales, and most importantly, gain an edge over your competitors.
Tips To Help You Write Your Own Content
If you're choosing to write your own content rather than outsourcing, there are a few writing tips that you can use to create better content too.
1. Be Natural
Too much emphasis on multiple keyword references can often detract from the natural flow of an article. Your audience wants to get to know your brand; whether you're just one person writing content for your site or you're a content creator for a large multinational company, the audience requirement for genuine and naturally flowing content doesn't change.
2. Revise and re-optimize
As important as creating content is, you don't need to put too much pressure on yourself to make the content perfect the first time you publish it. 
Adapting your content can actually be a really great strategy, as it allows you to see which content performs best in regards to conversions, bounce rate, engagement, and so on.
It's sometimes a bit of a trap that we set ourselves, where we believe that the content should be perfect the first time around, without seeing the benefit of re-optimizing and tweaking our existing content, once we get a clearer picture of how this is performing. 
3. Don't Keyword Spam
It's really important to remember that although keywords are incredibly important, the days of spamming your web pages with random keywords and incoherent sentences to maintain your Google ranking are long gone. 
Your content needs to contain the best keywords for the location and search frequency (amongst a few other specifics), but still be contained within the content which makes sense to the reader. 
4. Update Your Keywords
Keyword performance and search volumes can change over time. If you have older pieces of content, try to reuse and re-optimize these pieces by updating their keywords. Don't be afraid to change your keyword focus if there is no longer search volume or the keyword you originally chose is no longer relevant. You can also add additional keywords into your piece, making sure you don't take out any key phrases or original keywords.
5. Use The Right Tools
Using a tool such as the Keyword Magic Tool and the Writing Assistant can help you to create engaging and SEO-friendly copy. 

The Keyword Magic Tool will provide all of the data and suggestions that you need to choose a keyword with the optimum search volume and difficulty. 
Using your chosen keyword in the best way is just as important. The SEO Content Template can help you to do this by crawling content across the top 10 websites that are using your chosen keywords and report back on the things such as backlink sources, readability, and general tips on how to make your content stand out in the crowd.

Conclusion
Whether you create the content yourself or outsource to the best content writing services, creating engaging content is important for every business. 
If you choose to outsource your content creation, follow our 5 tips to create the best content brief so that you can make sure you get the best content back from the writer. If you are writing your own content, follow our 5 tips to give your content every opportunity to perform.
To find out more about creating the best content for your business, read more tips on writing and ordering content.