How To Use the Semrush Audience Insights for Your Marketing Campaigns
Oct 20, 2020
8 min read
The Value of Audience Insights Data 
Are you sure you have a feel for your target online audience? Marketing itself is not rocket science, but consumer behavior can be. Customers make choices based on many volatile factors, some of which are not obvious at all. You can't predict their actions, but you can leverage consumer insights to optimize your marketing campaign in a timely way. 
Invaluable data can come from knowledge of website traffic. What magazines do your target audience read? What alternatives do your loyal customers consider? You can answer these questions and many more with the help of the Semrush Audience Insights report. 
Below you can find several scenarios of using Semrush Audience Insights to find marketing insights for strategic business decisions.
1. Gain Insights From the Least Evident Competitors
Premium brands don't usually compete with the mass market. Though your audience may not care that much about the market you identify with – they just want a polo shirt. As we see from the graphs below, visitors to the Ralph Lauren website are completely fine with taking a look at what H&M has to offer.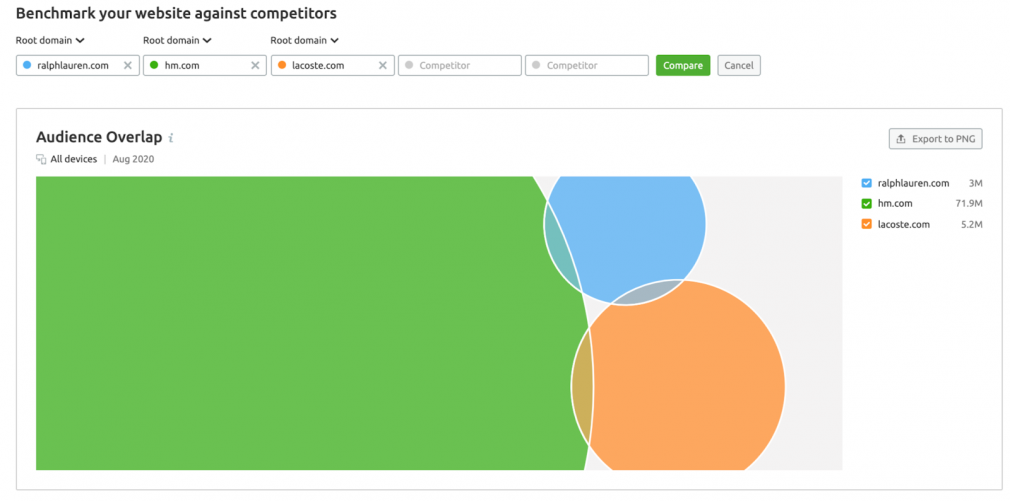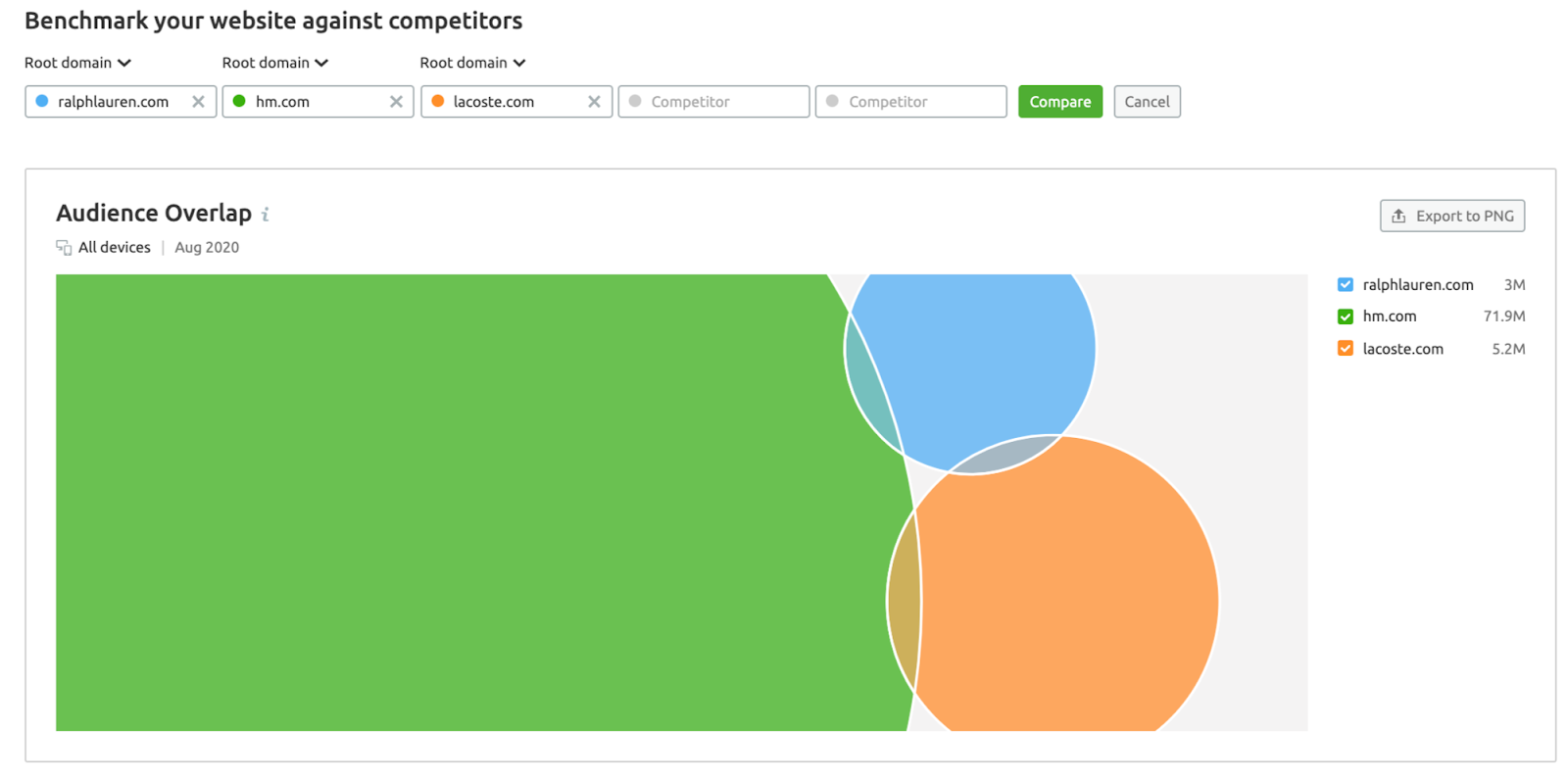 Go down to the Audience Insights part of the report and filter it to find more apparel websites visited by Ralph Lauren's and Lacoste's audience. You'll see that some of them wouldn't mind shopping at big marketplaces such as Grailed or East Dane and enjoy Goat and Jimmy Jazz. 


2. Broaden the Range of Partners for Collaboration
Sometimes, customers choose between product categories that have no direct connection at first glance. Sephora cosmetics, Pandora jewelry, Victoria's Secret lingerie, and a Netflix subscription are not interchangeable in practical terms – yet all of them make great options for a holiday gift.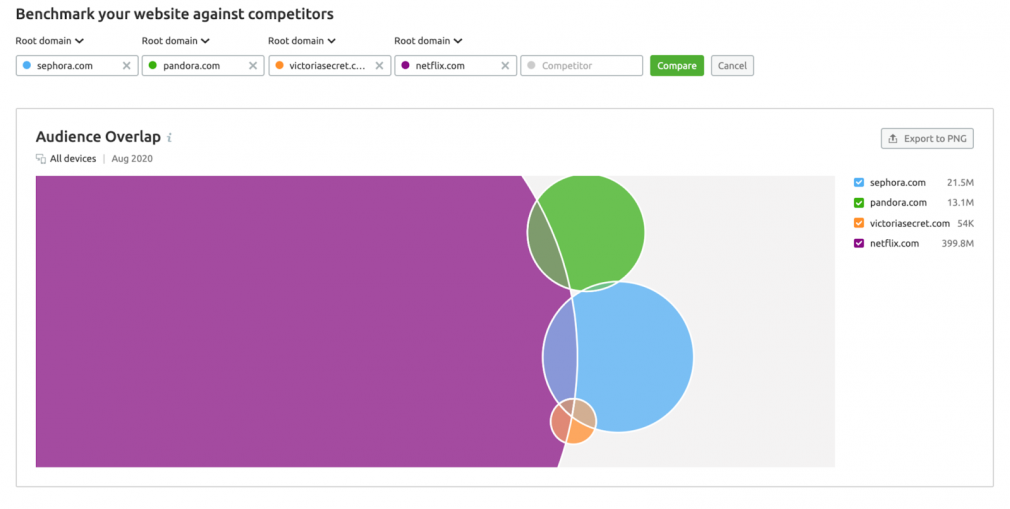 Such overlap can point out possible partners for collaboration or co-marketing. 
This overlap of the websites' audience doesn't necessarily imply a full-scale co-branding project; it might be the choice of prizes for a draw on social media. Apart from promotions for your own products, you might want to impress your audience with additional offers they might like. 
To understand if the prospective partner will accept your proposal, you can benchmark the volume of the unique and shared audience by hovering over the different segments of the chart. For example, Netflix shares 3.4m visitors with Sephora, but their unique audiences make 400M against 22M.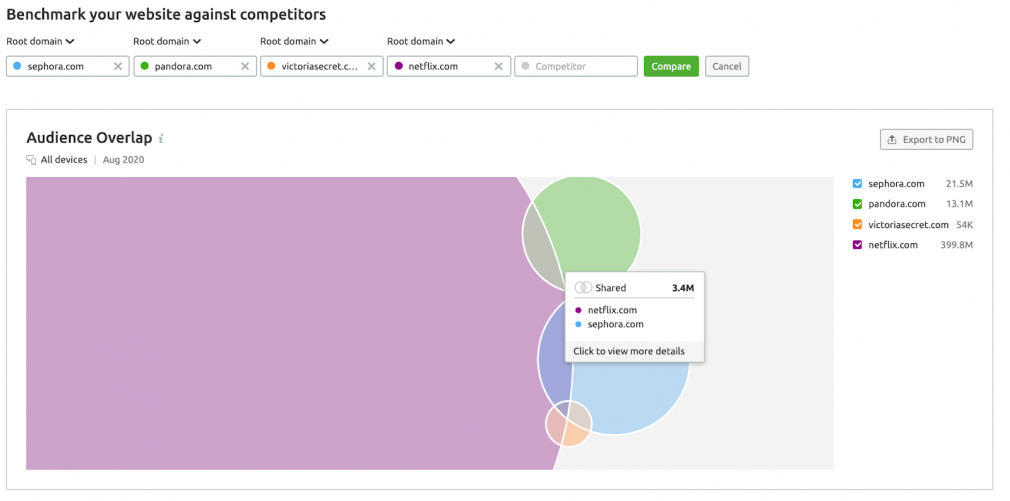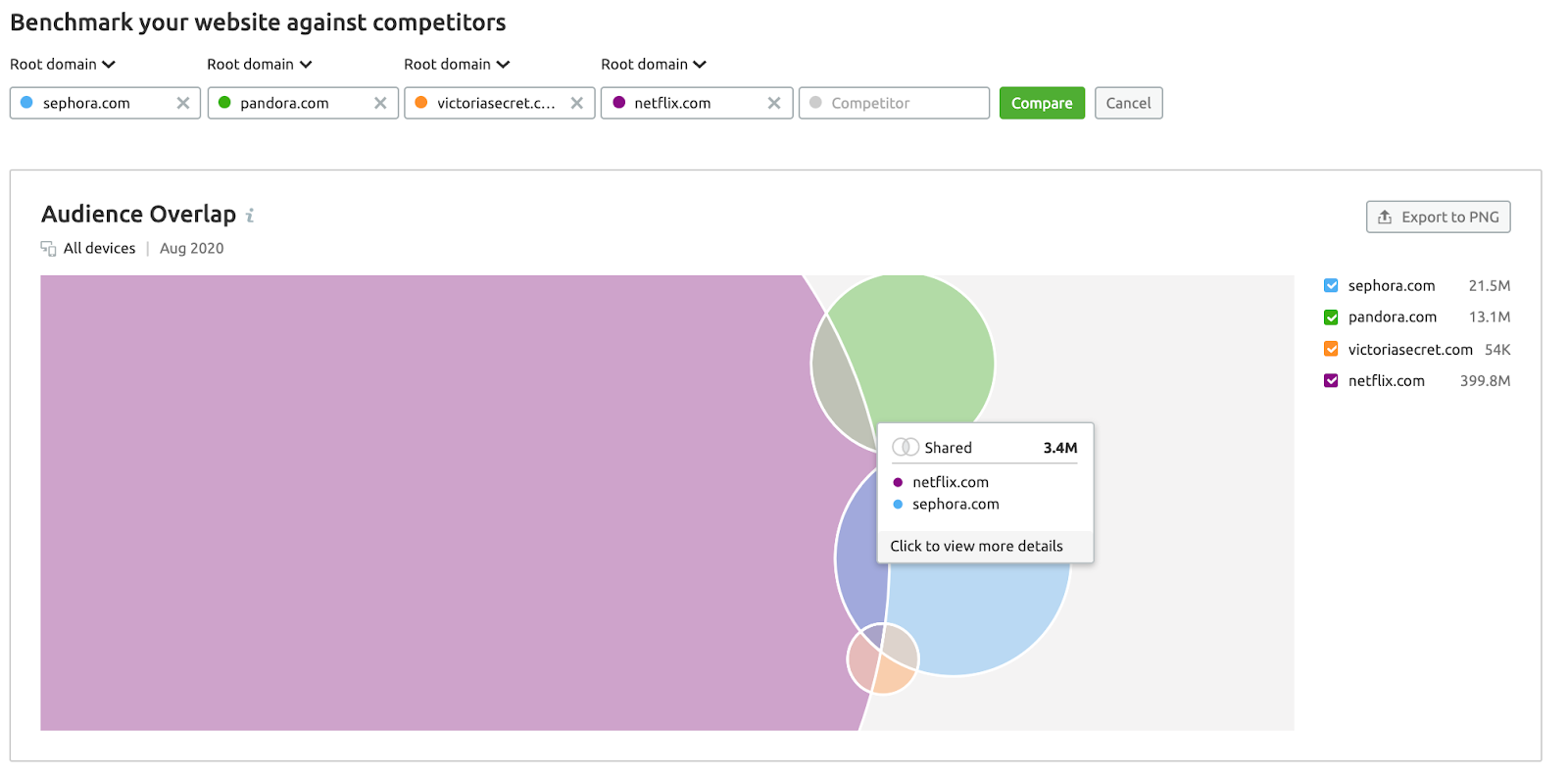 Another way to find more relevant partnerships is going down to the Audience Insights section of the report and using "shared" or "excluding" filters. For example, you can find the websites visited by both Sephora and Pandora customers and then keep only those that fall into relevant business categories.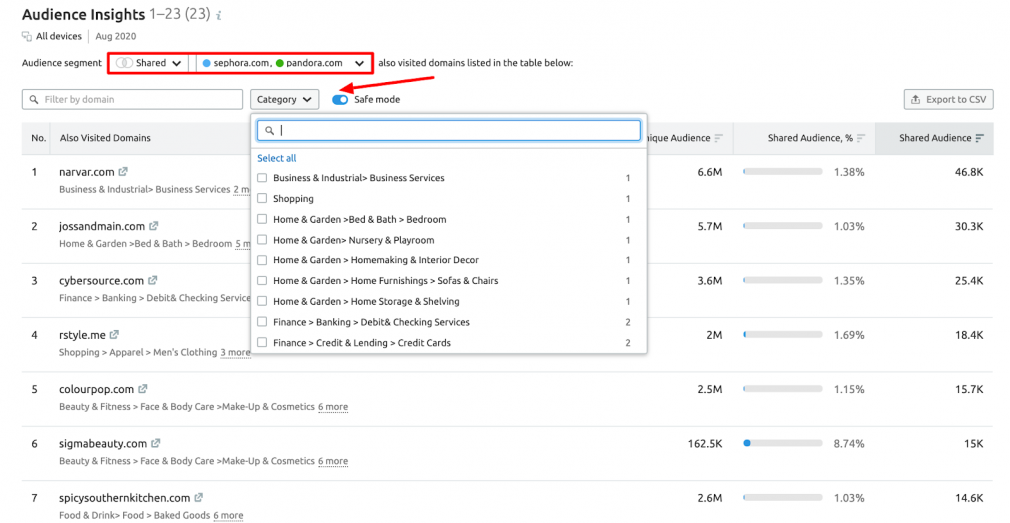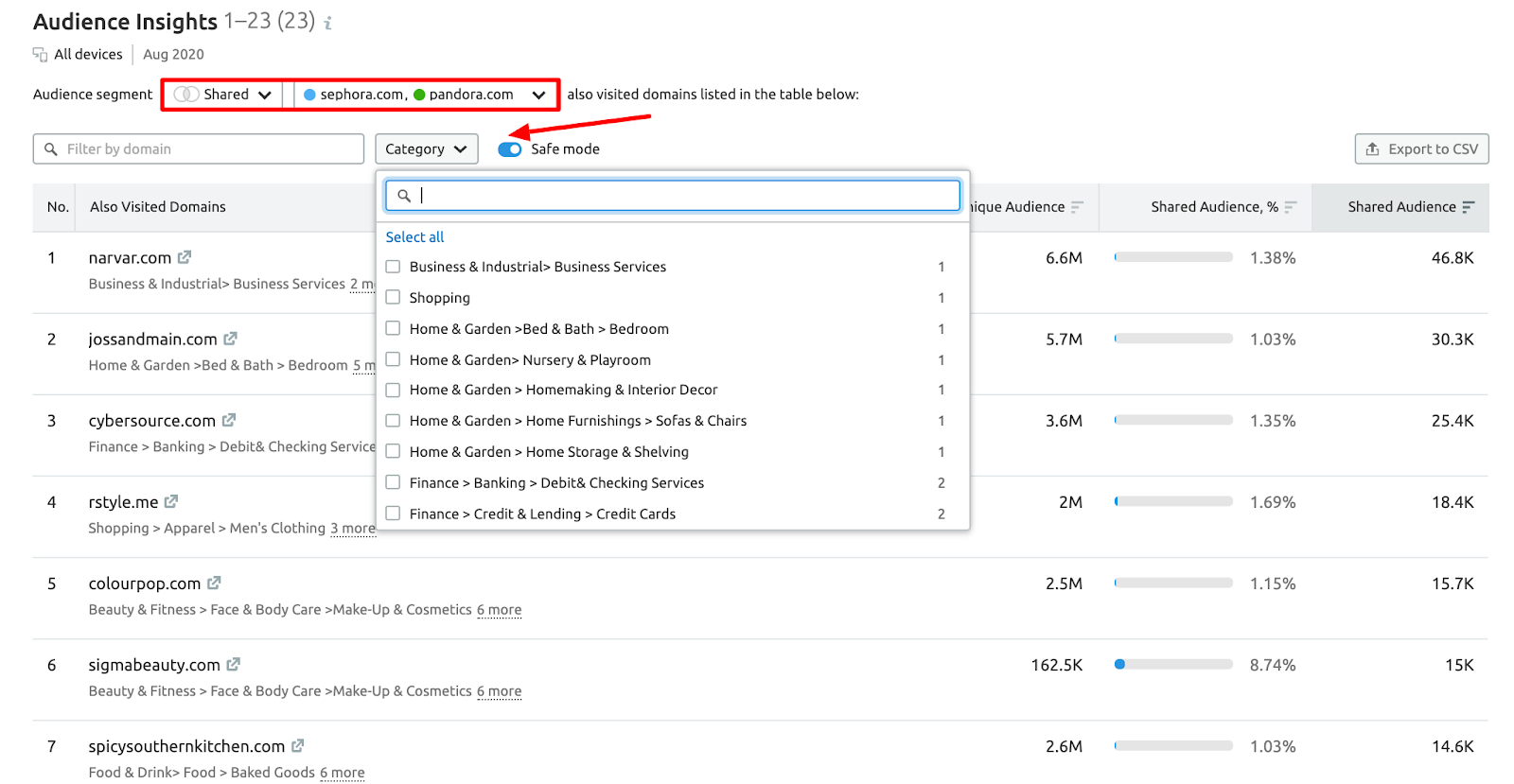 In the same way, the "Exclude" filter will help you find the websites visited by your competitors' prospects but not yours. Simply type in your rivals' URLs and exclude yourself from the search.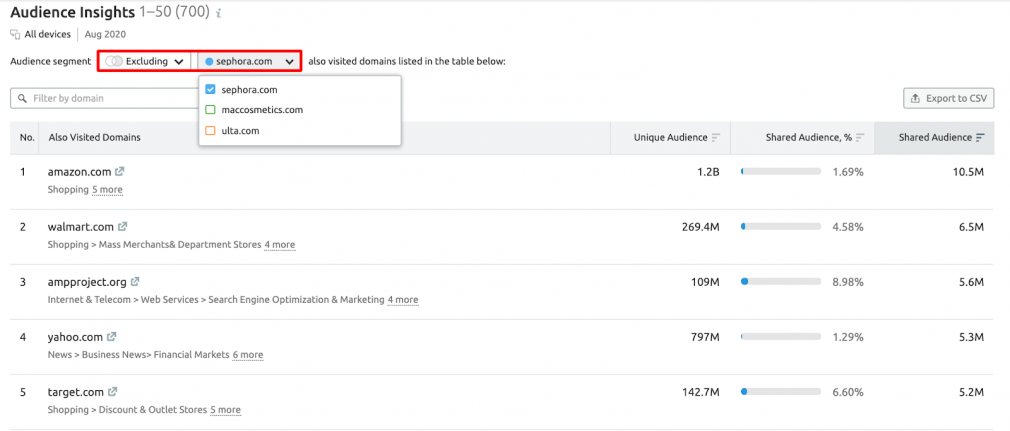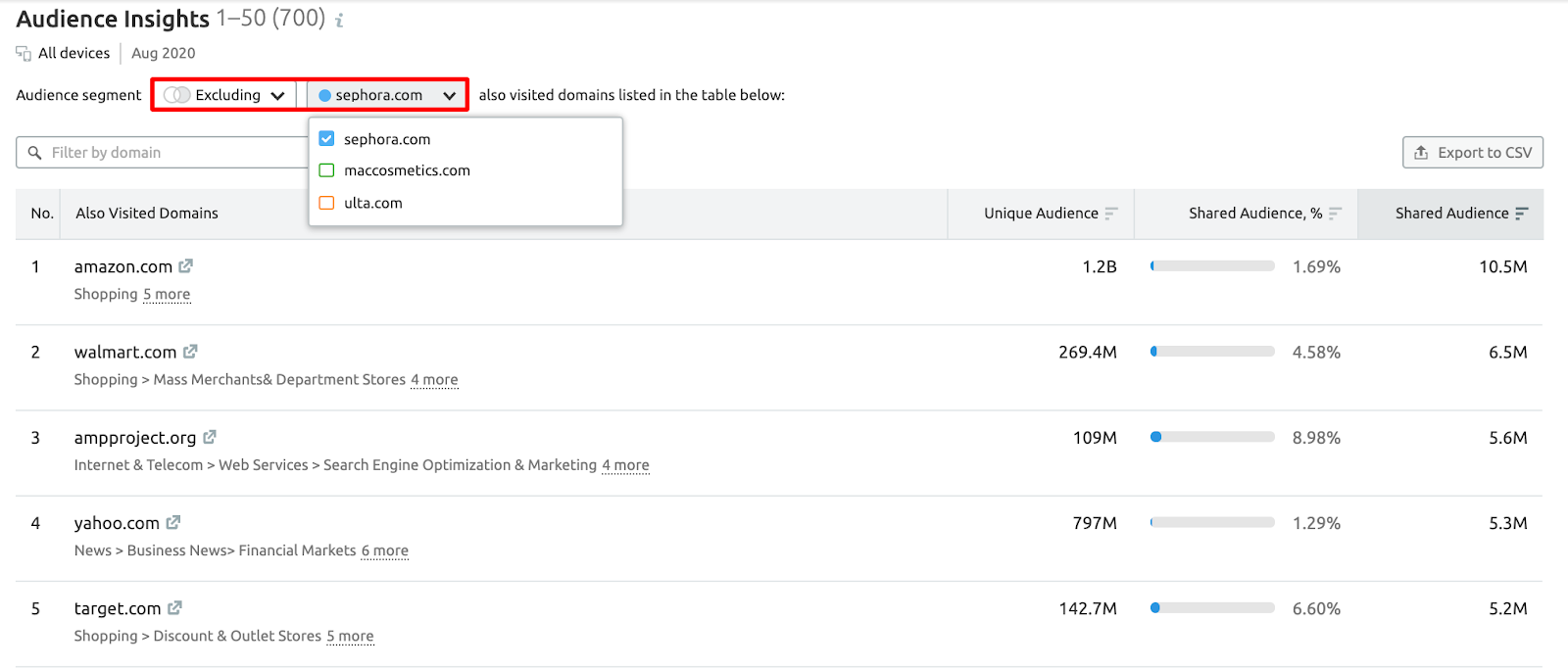 3. Review Your Media Partners
Let's say you are comparing several media platforms, and are considering two websites — both alike in reputation (and target audience). Should you consider both? Depending on how bold your brand policy is, you can try out some unconventional solutions based on audience insight. 
Imagine that previously you worked with business magazines. Their readers definitely belong to your target group. However, showing ads to exactly the same users may not be in your best interests if your campaign's objective is reach. 
Check the media options that are usually excluded from your list. Consider several platforms that claim to have your target audience in their press kits but have little overlap.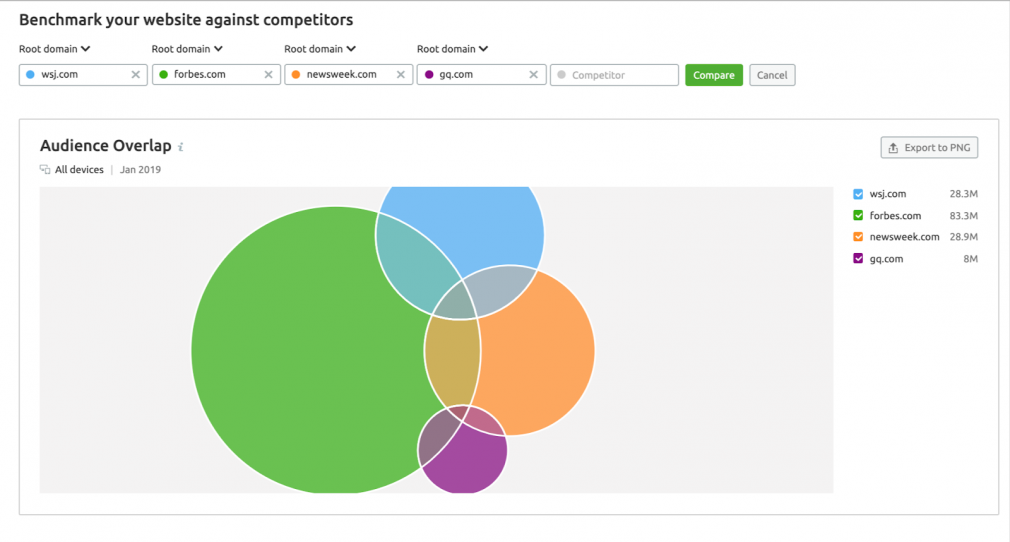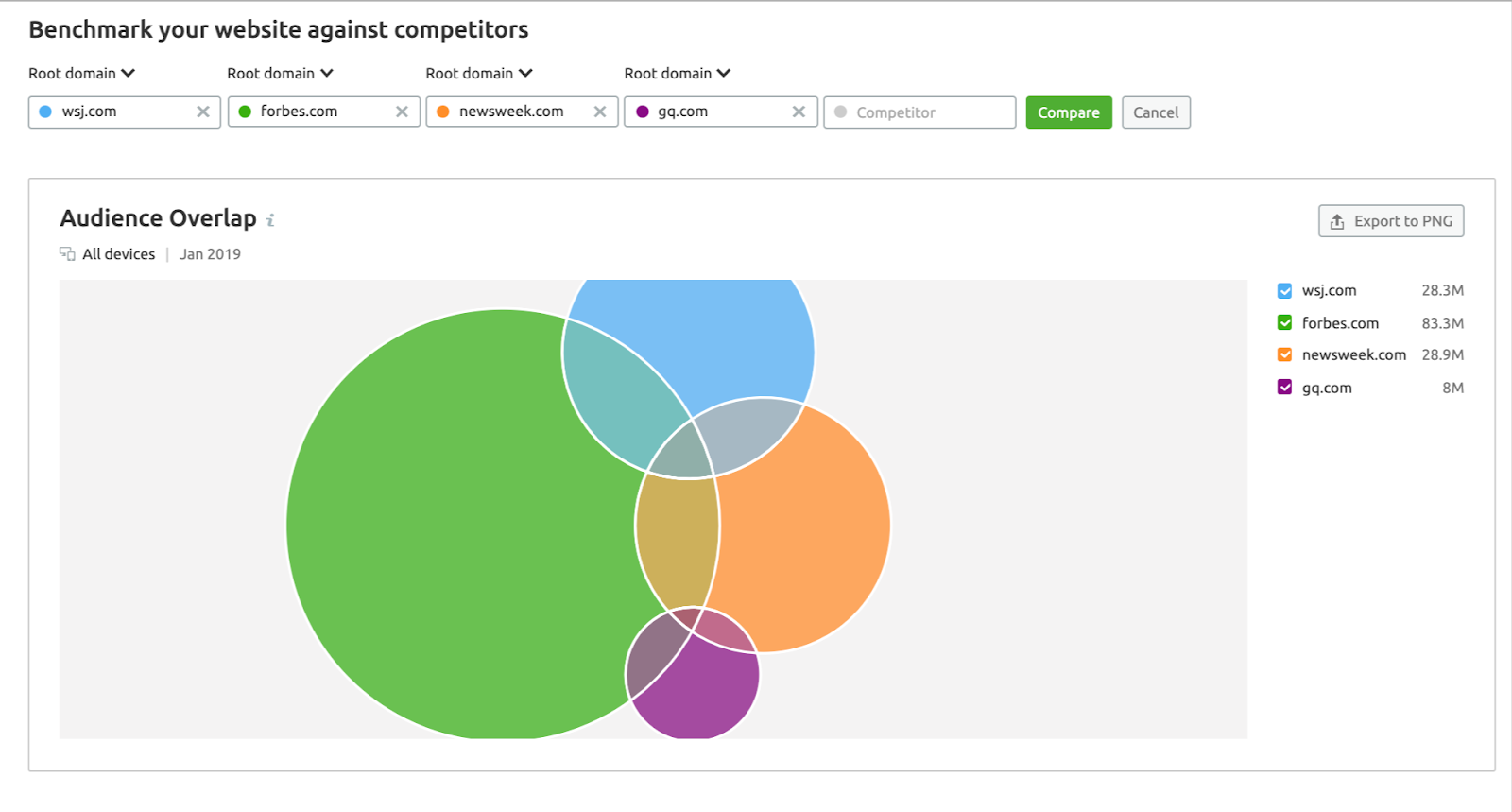 For example, you have found out that GQ website visitors have the same socio-demographic characteristics as your target group. Audience Overlap shows you that these relevant users haven't been reached by your ads in other, more serious magazines. 
Of course, GQ, which is a men's fashion magazine, is unlikely to publish a long read about company development. Though if your brand is open for a creative experiment, an article there could help you get to the part of your target audience that has not been covered in previous marketing campaigns.
You can also try out a placement in the media with the biggest share of the unique audience for the broadest reach (Wallstreet Journal) or one with which you share the most audience members (News Week). This can help you create an additional touchpoint with your potential customers.
The Audience Insights "Shared" filter will help you find more media that fall into the same category as Forbes and WSJ and share most of the audience. 
4. Estimate the Potential Reach of the Media
You can also compare audiences from your website and a media platform. The graphs will show you the exact users who have visited both. If your aim is to reach new people, consider working with the resource that you have the least Audience Overlap with.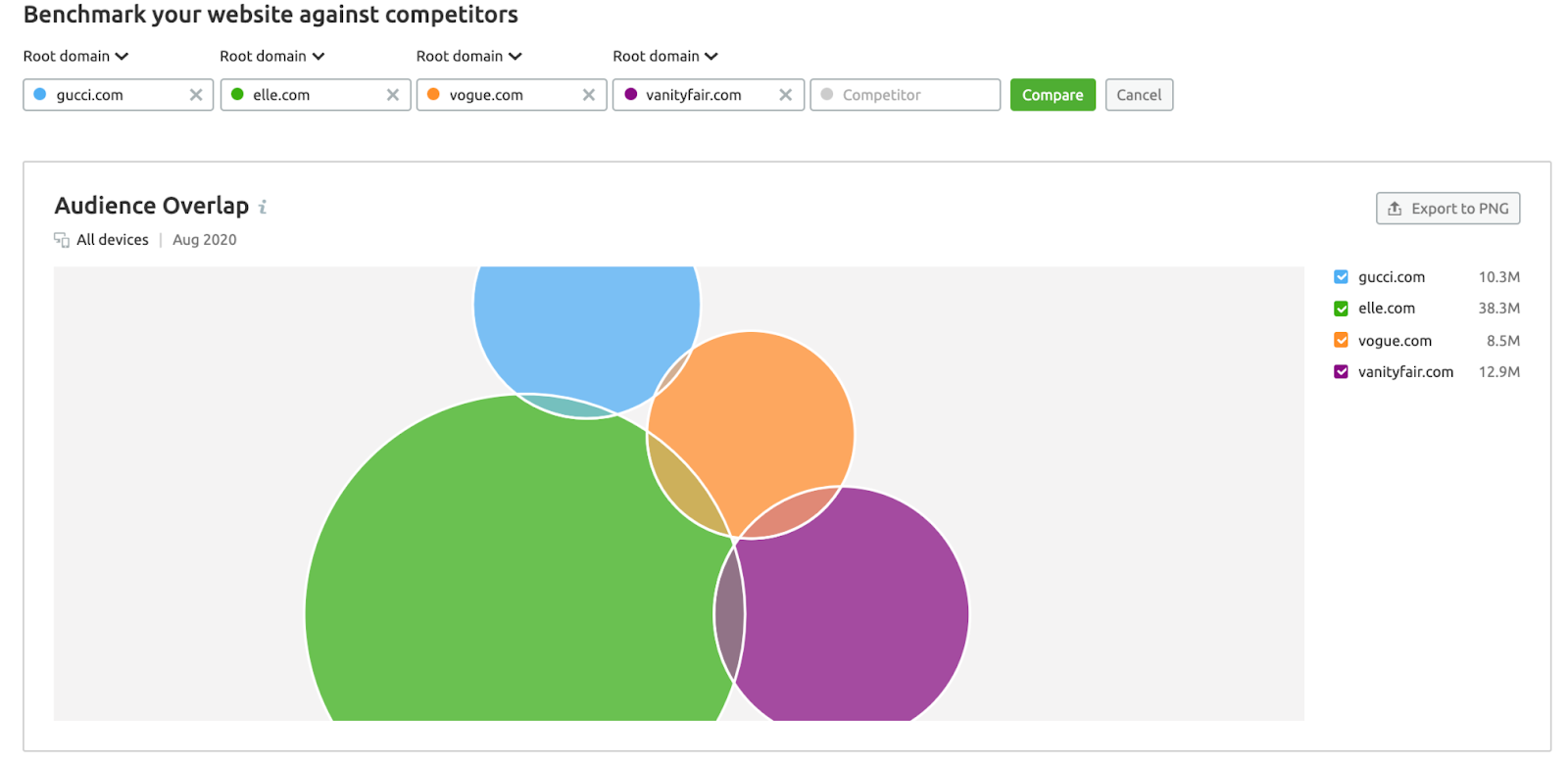 We have compared audiences of the official Gucci website and three fashion publications. Elle, is a more general women's magazine, while Vogue and Vanity Fair, tend to be more about 'upper-class' style. Gucci customers read Elle as well as Vanity Fair. Whatever the reason, consider this new data when planning your next placements.
This approach works for your GDN placements (Google Display Network ads), as you need to make sure the audience overlap between you and your prospective publisher is significant. 
5. Compare Your Placements Against Those of Competitors 
You can also check how one of your rivals (we chose Prada and Armani) is presented in the same media.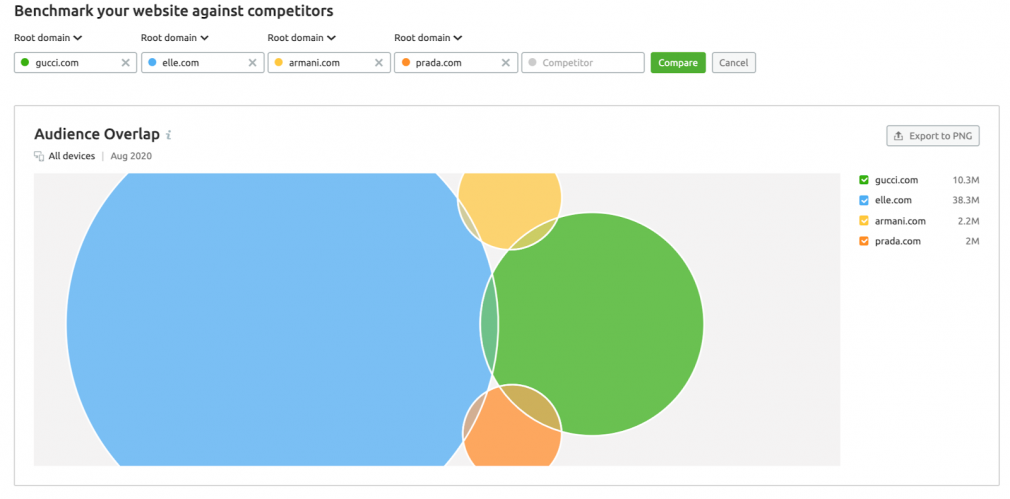 Gucci still has the greatest percentage of visitors who also read Elle online. However, if you observed the opposite picture for your competitor, check their traffic sources.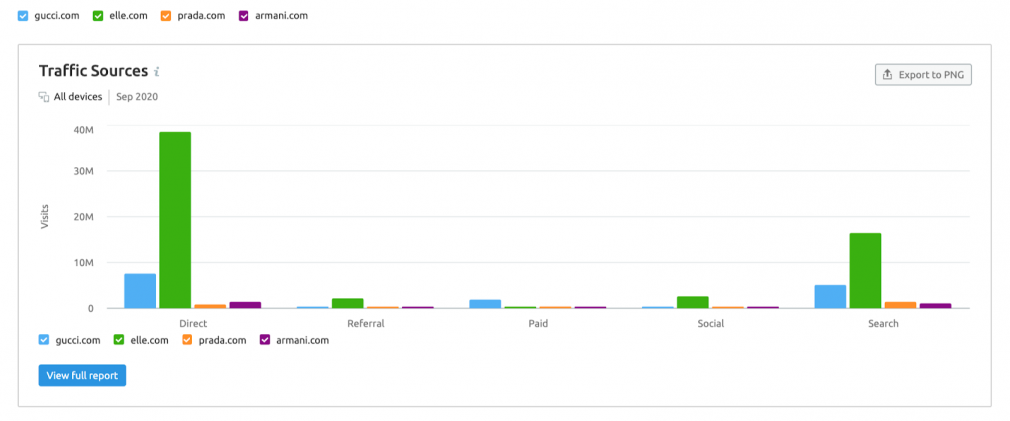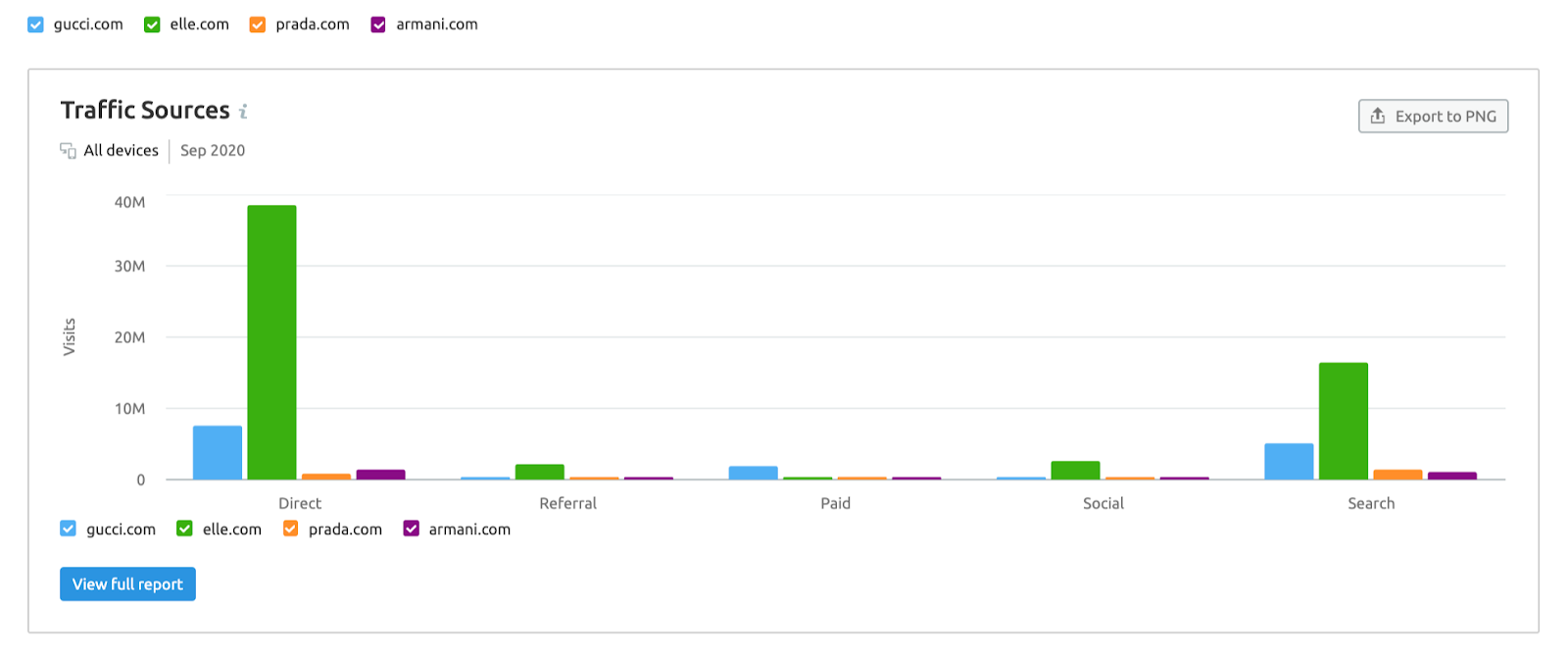 This way you'll find out if the paid placements prevail, and understand whether it makes sense to invest more in advertising on comparable media.
6. Find Your Customers' Favorite Social Networks
The majority of today's internet users spend a lot of time on social media. That's why website owners look for suitable networks to promote their business accounts. To find such a network, check out the overlap between your audience and each of the target social media. The larger the overlap is, the more users visit both your site and a particular social network during a month.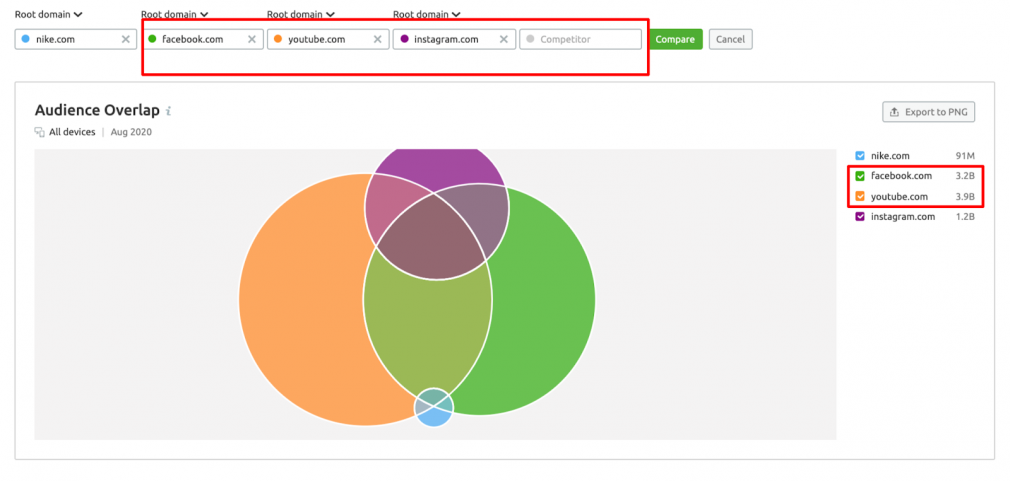 Additionally, you can use this report to find which social networks your competitors' audience prefers. It would be a nice idea to attract their attention to your account with some engaging content or social media ads.
7. Research Regional Markets
Owning an international brand is not necessarily a competitive advantage, especially in such a volatile industry as e-commerce. To develop the company in a specific geographical market, take a closer look at the locals. 
We'll analyze ASOS. In the UK, this retailer competes with Amazon and eBay. In Russia, the situation is different; the company shares its target audience with local multi-branded online stores, Lamoda and Wildberries. Let's see what consumer insights Audience Overlap can give us.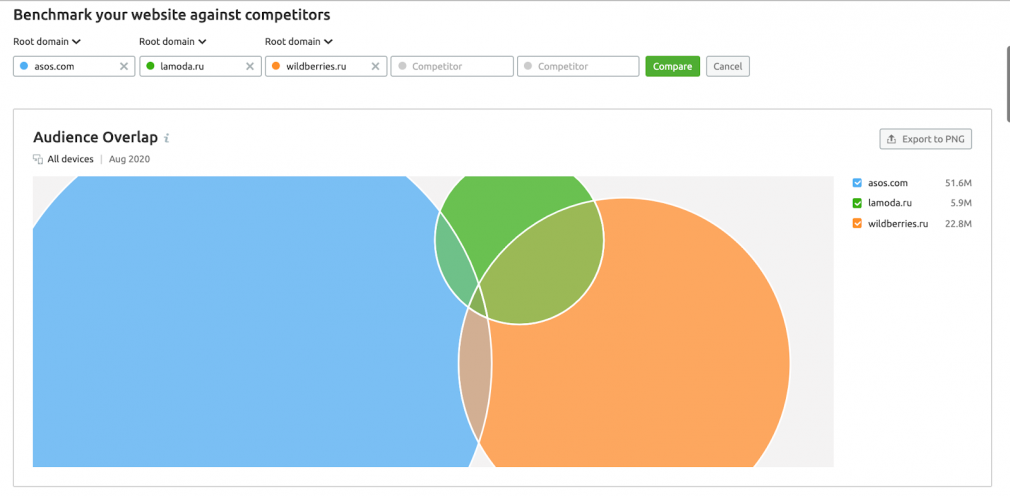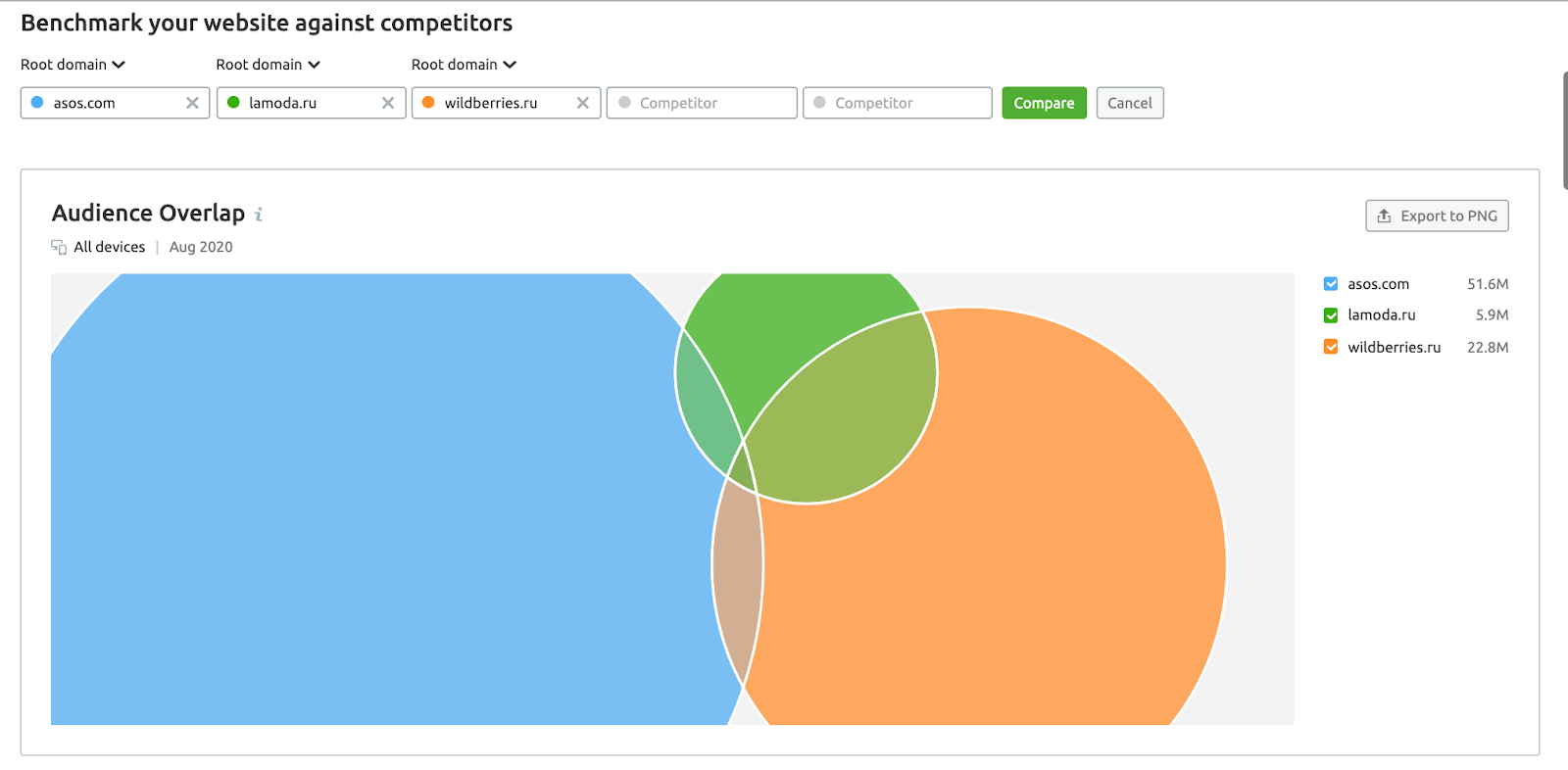 As you can see, more customers of Lamoda visit Wildberries than ASOS, and more Wildberries customers visit Lamoda than ASOS. If we take a closer look at the numbers, these will make 588k visitors from Lamoda and 908k visitors from Wildberries. This means that, for ASOS, competing against Wildberries (analyzing their choice, delivery, and pricing model) could be almost twice as efficient as competing against Lamoda. You could use this customer insight as a sign to continue your market research in the field of positioning and communication strategies.
8. Define the Leader in a Niche
Being too general is rarely a good plan, especially in the niche in which one player already owns the greatest market share. Let's say you are developing the marketing strategy of a sports shoe brand. 
You know for sure there are companies that offer various types of clothing and one that specializes in sneakers. Will you have to compete with the industry leaders? Or will you manage to have more or less consistent competition within your niche? Let's see what Audience Overlap shows us with some popular brands.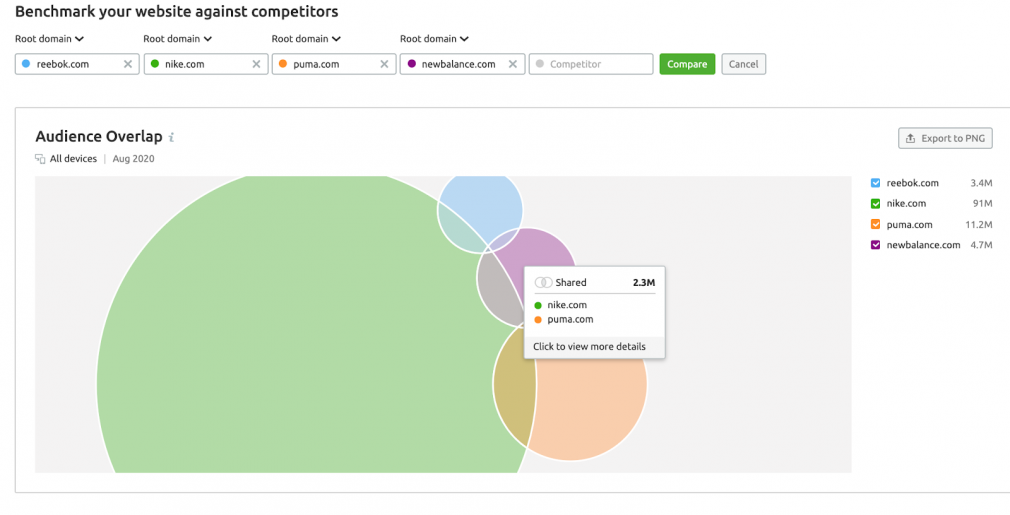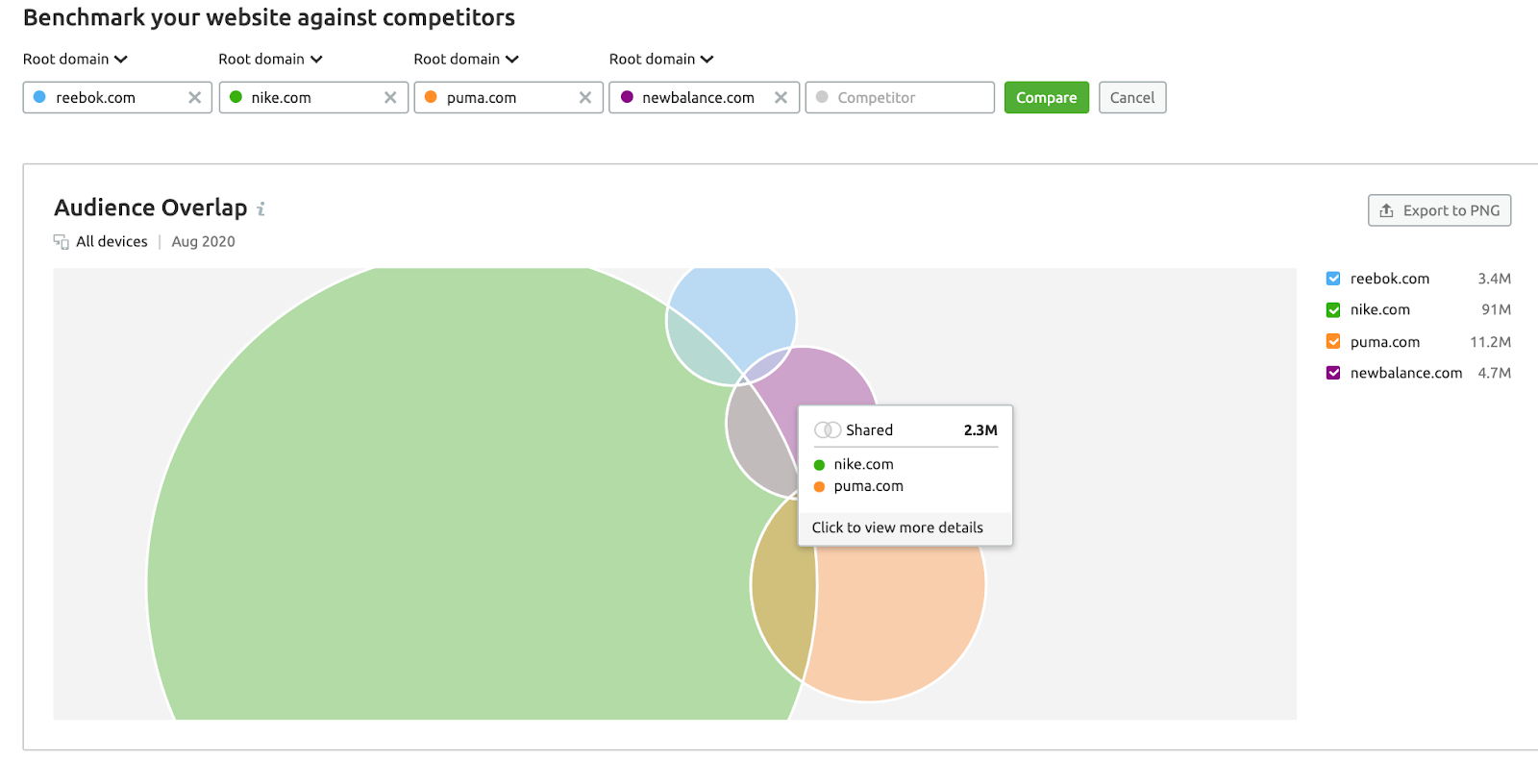 Nike has a significant overlap with almost any sports shoe seller you can think of. This means that the audience searching for Puma's, Reebok's, or New Balance's footwear also considers buying Nike. As a product marketing or brand manager for an opposing brand, you might feel motivated to study their offers more closely, monitor their marketing campaigns, and evaluate some of their approaches.
9. Don't Rely On Professed Target Audiences (and existing press kits)
If you are an owner of several websites (or the one responsible for their promotion as media platforms), you need some valid data to present in your press kit. Let's look at the example of Condé Nast Inc., which owns publications aimed at various target groups. You may assume that since Vogue, Glamour, and W Magazine are women's magazines, all advertising activities should be on these sites. However, Audience Overlap shows a different picture.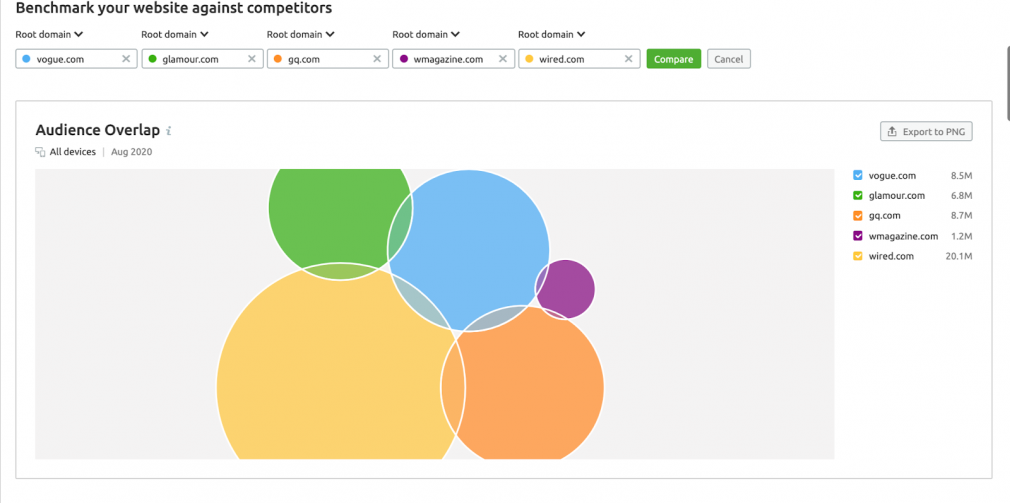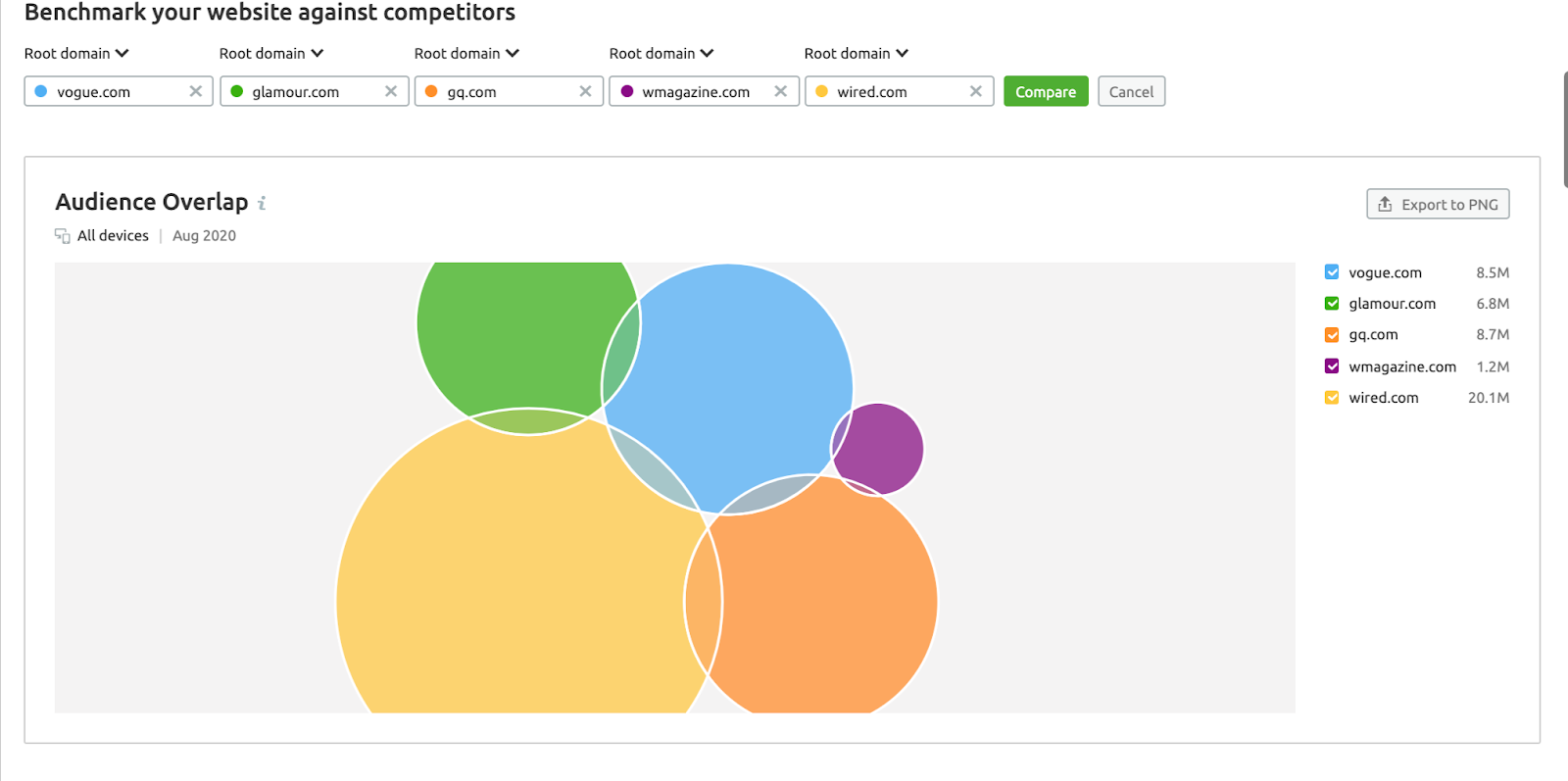 In reality, quite a few users also visit the Vogue and GQ websites. Are these women interested in the lifestyle section of the men's magazine? Possibly, they are helping their boyfriends to revamp their wardrobes. The graphs won't tell you, but they will give you valuable insights for future advertisers that you can include in your press kit.
10. Monitor Market Position Dynamics
With Audience Overlap, you can see how your positions in the market change over time. Enter two competing domains and move from one time period tab to another to observe the trend. We studied how French users changed their preferences between Air France and KLM airlines due to the strikes of spring-summer 2018.
First, we checked the percentage of users who visited both websites before Air France became turbulent (February 2018). Then we went on to the peak period (July 2018) and noticed that the Air France audience started visiting the competing KLM website more often. The trend continued typically for the industry high and low seasons and grew even stronger in January 2019. 
The next step could be checking other competitors, revealing the one that welcomed the most significant part of your once-loyal audience, and taking the best from their development and communication strategies.
You can compare Audience Overlap for several locations one by one to determine if a trend is global or local. It will give you an idea of whether you need to strengthen your campaign in a particular market or study the options deeply and revise your offers.
Conclusion
The Audience Insights report provides a wealth of information on how you can better connect with your potential customers and partners. You can use it for competitive research, to equip your presales, advertising, media-buying, and remarketing campaigns, and to estimate the potential of a new market. 
However, the Traffic Analytics tool has much more to offer, from general traffic data for any website to its top pages and subdomains, and audience behavior metrics. 
See Audience Overlap in action
Compare two to five websites in the tool
Natalia Zhukova
Natalia is a data-driven marketer focusing on market research and strategy development. Having a solid experience in digital marketing, Natalia has a passion in SEO, content marketing and multilingual website creation and optimization.