When it comes to running a link building campaign, using the right tools can make your life a lot easier.
While there are hundreds of link building tools marketed to SEOs, the most effective ones help you streamline the process to remove the need to carry out what would otherwise be manual tasks.
In this guide, we're going to dive deep into 10 link building tools that you need to know about, as well as sharing a bonus list of five Chrome extensions that you should install. Specifically, we'll be looking at these top 15 link building tools:
10 of the Best Link Building Tools Every SEO Needs To Be Using
Successful link building is all about designing a proven process to find link opportunities and reach out to persuade a webmaster or journalist to link out to your content. While it's certainly possible to build backlinks without using any tools, they can help to make your efforts more effective.
Here, we've rounded up 10 of the best tools that can help you to build better links... 
1. SEMrush Backlink Gap Tool
Running a backlink gap analysis is one of the best starting points for any link building campaign, given that you're using competitor insights to identify opportunities based on sites that are openly linking out to others who compete in the same space as you do.
Use the SEMrush Backlink Gap Tool to compare your own link profile with your competitors' and uncover untapped link building opportunities.

Enter your domain and up to four competitors and hit 'find prospects,' and you'll see opportunities based upon the domains that link to the other sites but not your own.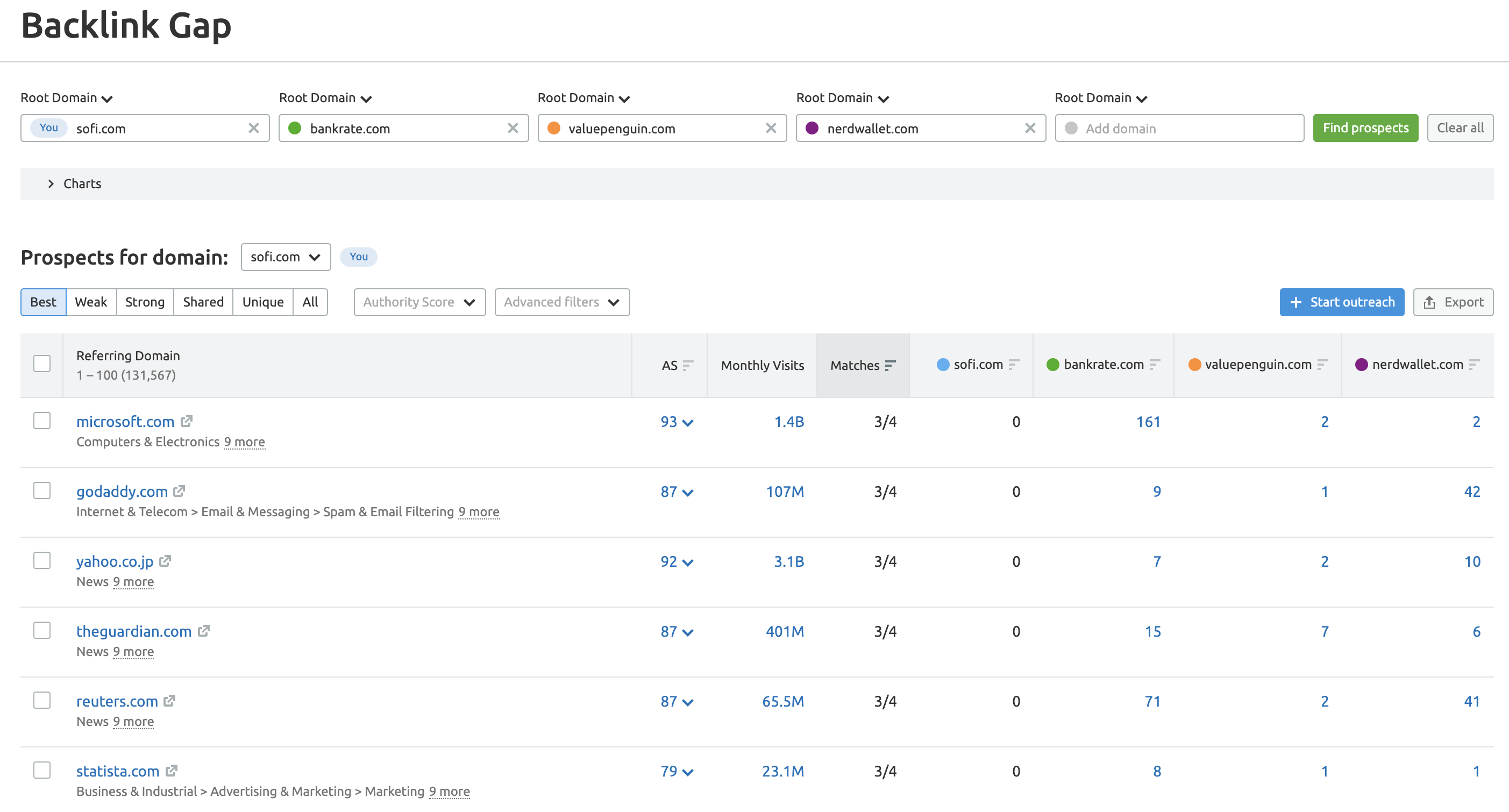 If your competitors have a stronger link profile than you, one of the most impactful things you can do is work to close the "gap" by pivoting your strategy to acquire links that they haven't got. However, you can also see what backlinks they share so you can find targets to focus on.
By default, you'll see the results from the 'best' tab, which is those domains that point to all of the competitors you entered, but not to you. You can also view the link gap prospects based upon:
Weak = Domains that point to you less than competitors
Strong = Domains that point to you but not any of these competitors
Shared = Domains that link to all entered domains
Unique = Domains that only link to one domain
2. Google Search (Search Operators)
When it comes to finding link opportunities, one of the best tools available to you is Google itself, along with a handy list of search operators.
If you're not familiar with search operators, they are an effective way to take a regular search query and make the results more targeted, helping you to find what it is you're looking for faster.
They are a potent tool for link builders to use to find specific opportunities including:
Resource pages
Link roundups
Guest posts
Journalists
and More!
Using search operators requires you to run a search in a particular way, adding specific commands to your search query to return specific results. Here are a few examples:
Find guest post opportunities:
Keyword 1 intitle:"write for us" inurl:"write-for-us"
Run a search for a keyword or query within a page's title or URL.
In this instance, we're looking to find relevant pages to a keyword that includes 'write for us' in the title tag and the URL.
The returned results will show you web pages relevant to your keyword and contain this in either of these two elements and can be used to build up your outreach list.
Find resource page opportunities:
Keyword 1(intitle:"resource" | intitle:"resources" | inurl:"resources")
Similar to above, here we're searching for pages related to our target keyword that include either "resource" or "resources" in the page title or within the URL. 
In practice, this will look something like this: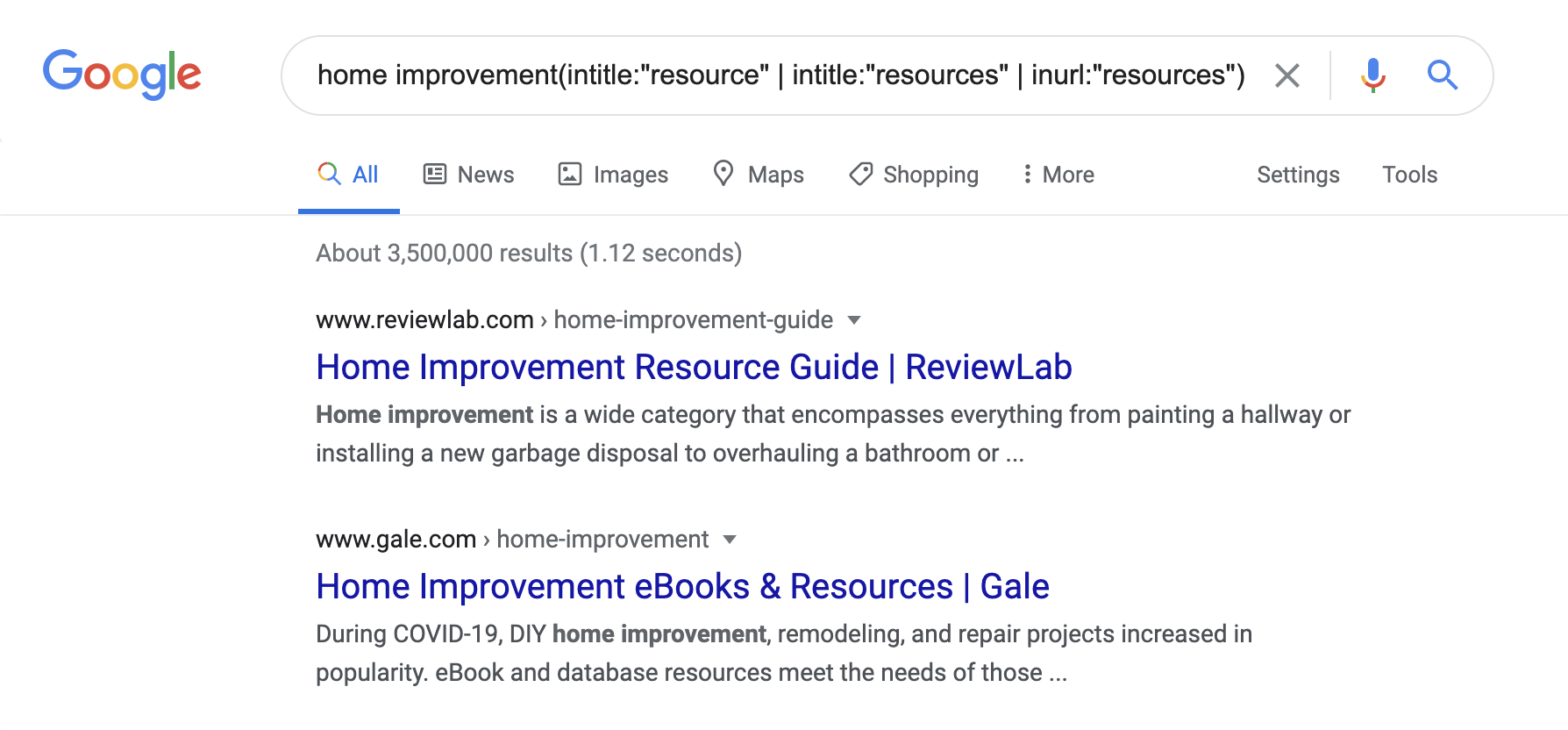 To learn more about the difference Google Search Operators that you can use as a link builder, you should check out (and keep referring back to when needed) our Google Search Operators Cheat Sheet.
3. Scrapebox
Scrapebox is a tool that can be really powerful when used with specific Google Search Operators.
In the past, this tool was a favorite of black hat SEOs (it was often used to automate blog commenting at scale); it can help you to harvest results from the SERPs in seconds.
Rather than manually compiling a list of prospect URLs, you can use Scrapebox to scrape these results and export them for you. This helps you save valuable time combing through results. You can now spend some of that time you got back reaching out to prospects and convincing them to link to your content.
4. Google Alerts
When we think about link building tools, it's probably rare that our minds turn to Google Alerts.
But this free platform is actually a really powerful tool that every link builder should be familiar with, given that it can help you to:
Be alerted every time someone mentions you online, showcasing opportunities to reach out to try and turn any brand mentions into links.
See when content that relates to your main keywords is published online, giving you an easy way to find new journalists or bloggers to reach out to and the topics that are trending.
Know when your competitors are mentioned online, letting you dive deep into who is talking about them and, perhaps more usefully, why. 
Google Alerts is extremely simple to set up, too: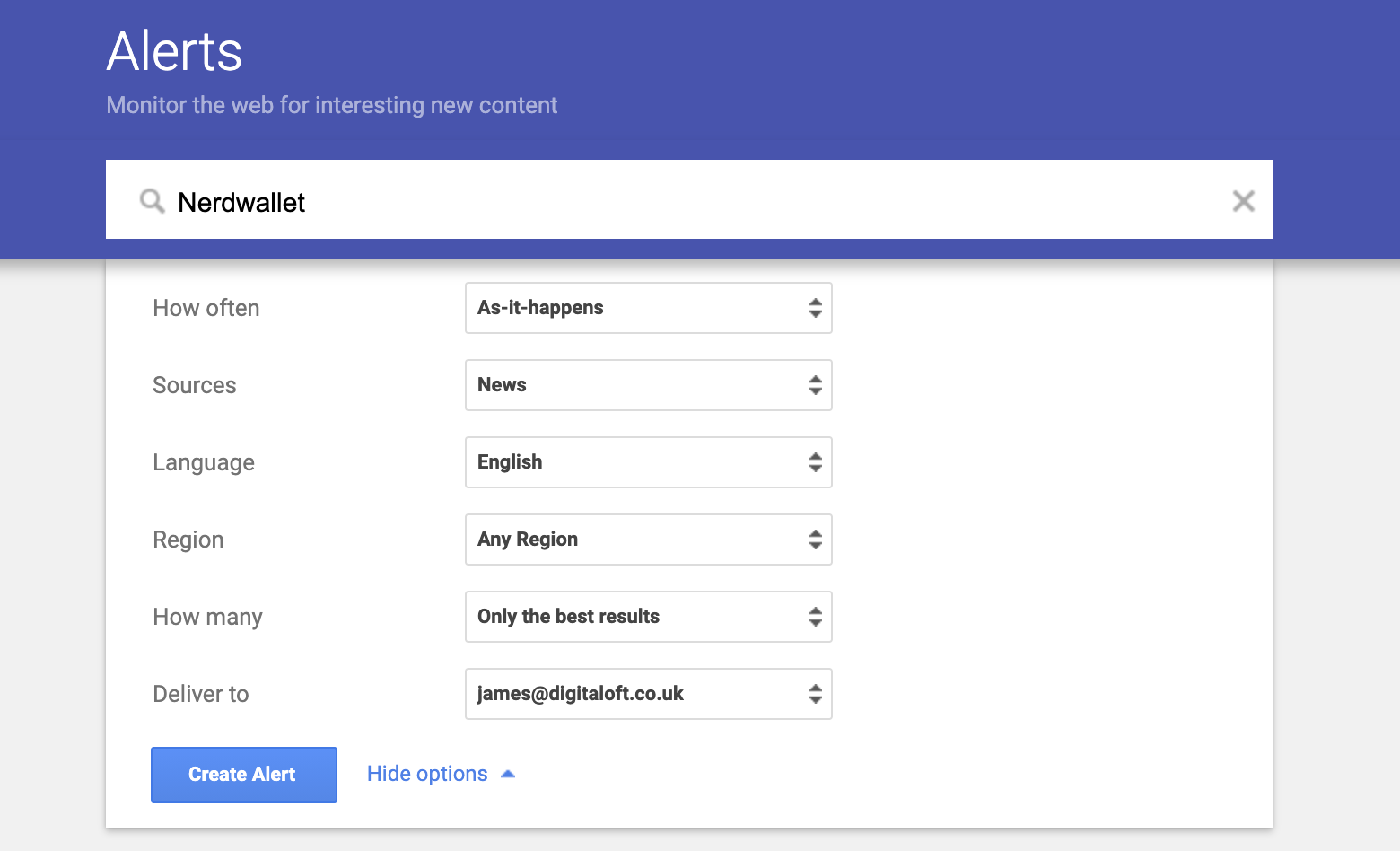 You'll then receive alerts on these straight into your inbox, leaving you to act on these. 
Think of Google Alerts as a discovery platform for link opportunities. While it's not a dedicated link building tool, it's one that can absolutely help you find new prospects and gain competitor insights by email.
5. HARO
Every day (well, every weekday, at least), journalists look for quality businesses just like yours to quote in their articles. Publications must back up any comments, statements, or advice that they give with the correct sources.
One of the places that journalists turn for sources is HARO. HARO is a platform that connects them via a series of three emails every weekday. Sign up as a source, and you'll receive requests from journalists straight into your inbox.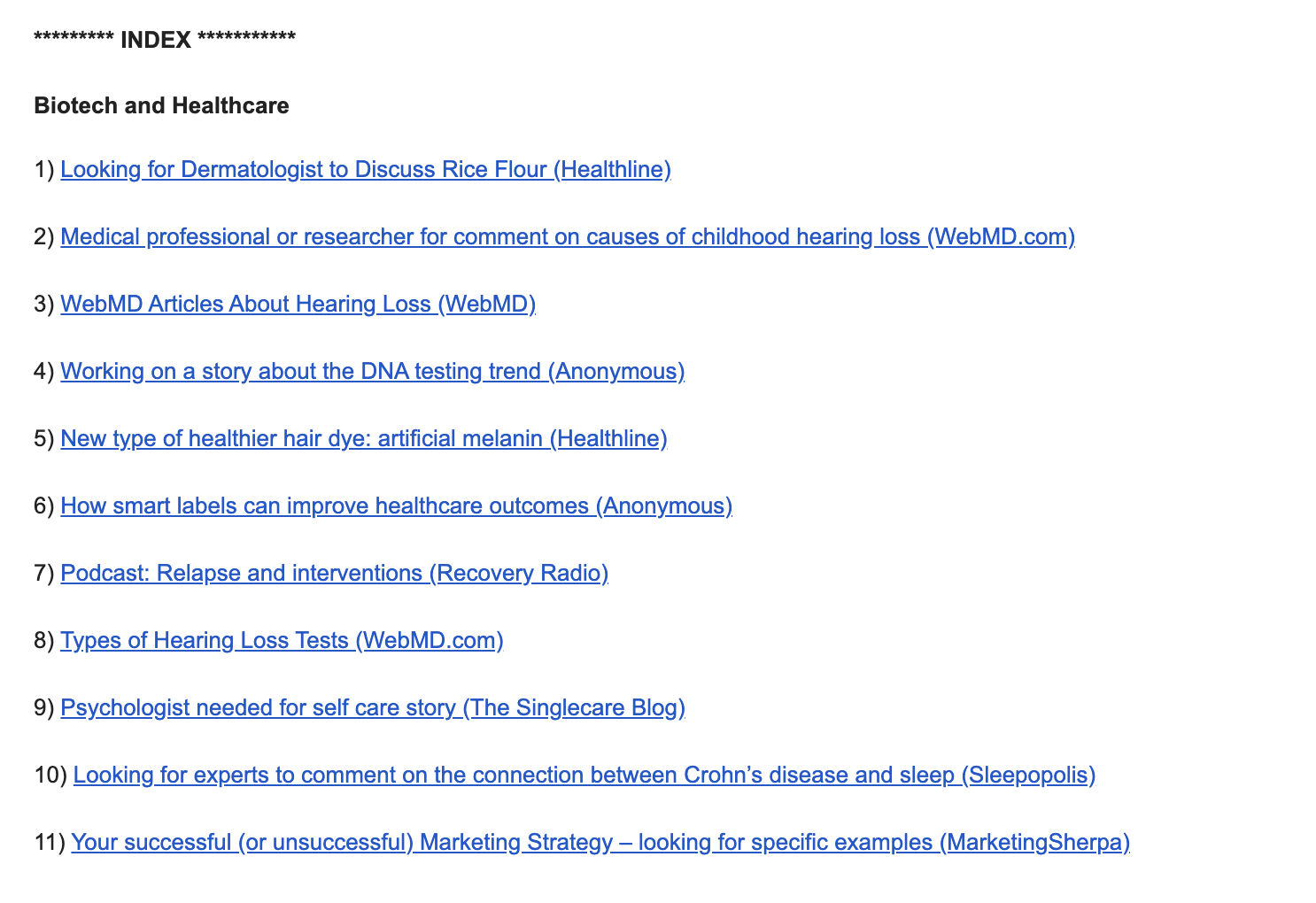 Click into one of these, and you'll see the specific request from the journalist working on the piece.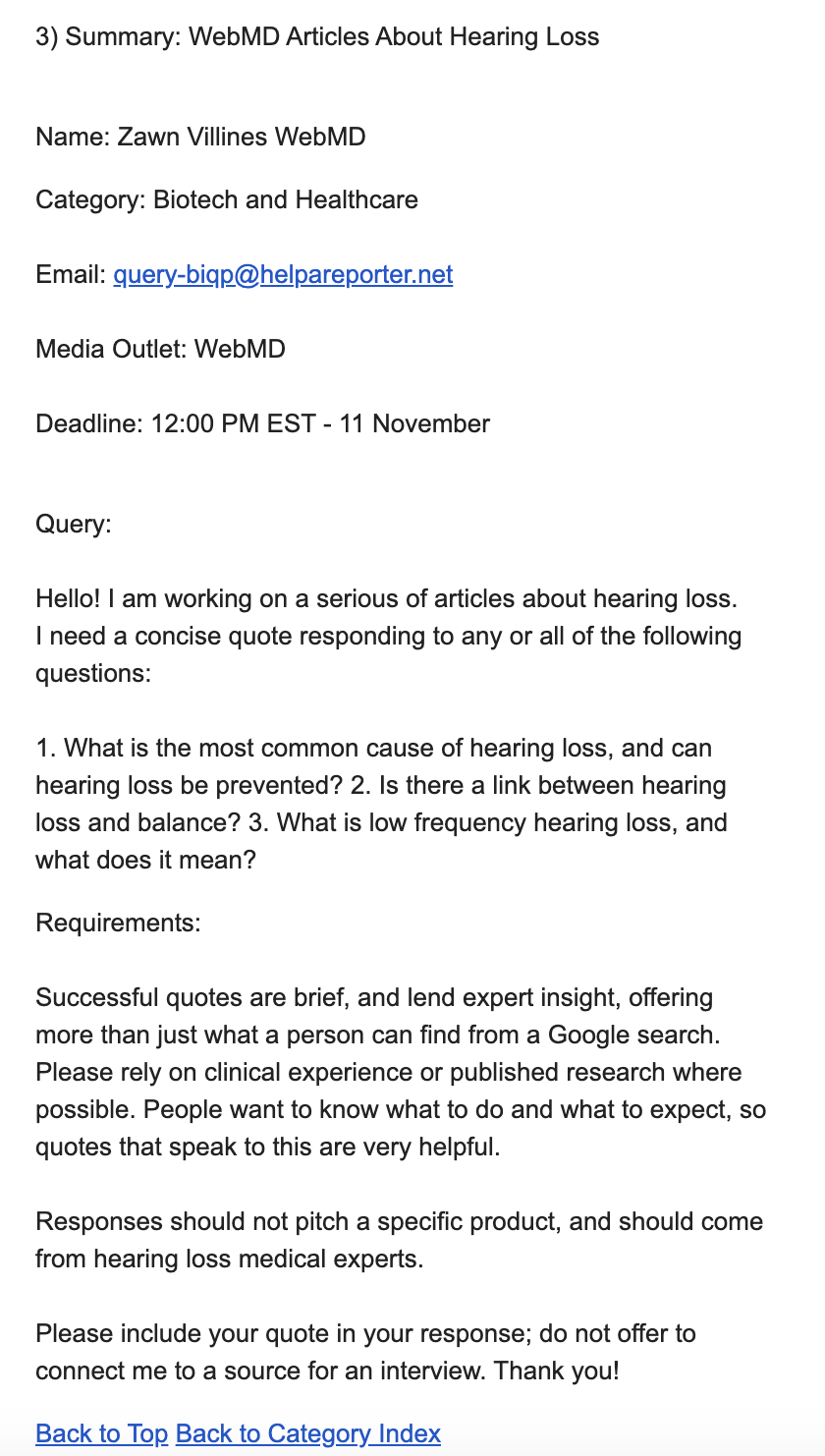 If there's a request that aligns with your knowledge or expertise, send your response to the email that's listed, clearly answer all of the questions that have been asked and justify why you (or your client) should be paid attention to as a source.
Just be careful not to pitch for irrelevant topics that don't properly align with your business and focus your efforts on only responding to topics you're a true expert in. 
6. SEMrush Link Building Tool
The SEMrush Link Building Tool is the perfect way to launch and manage an outreach campaign.
The Link Building tool has been designed to help you find and acquire the highest quality backlinks in your niche. Discover hundreds of backlink opportunities in the Prospects tab. Use customizable email templates for your outreach strategies. Once you've earned a backlink, start tracking its status.
But let's take a look at what the tool is capable of and how to set it up to help with your workflow.
Head to the tool and either 'add new project' if you've not set one up before or hit 'set up' if you've got projects loaded.
For this, we'll assume you've already got a project in place and are just setting up the link building tool for the first time.
Hit the 'set up' button next to your project, and you'll be given the option to add your target keywords.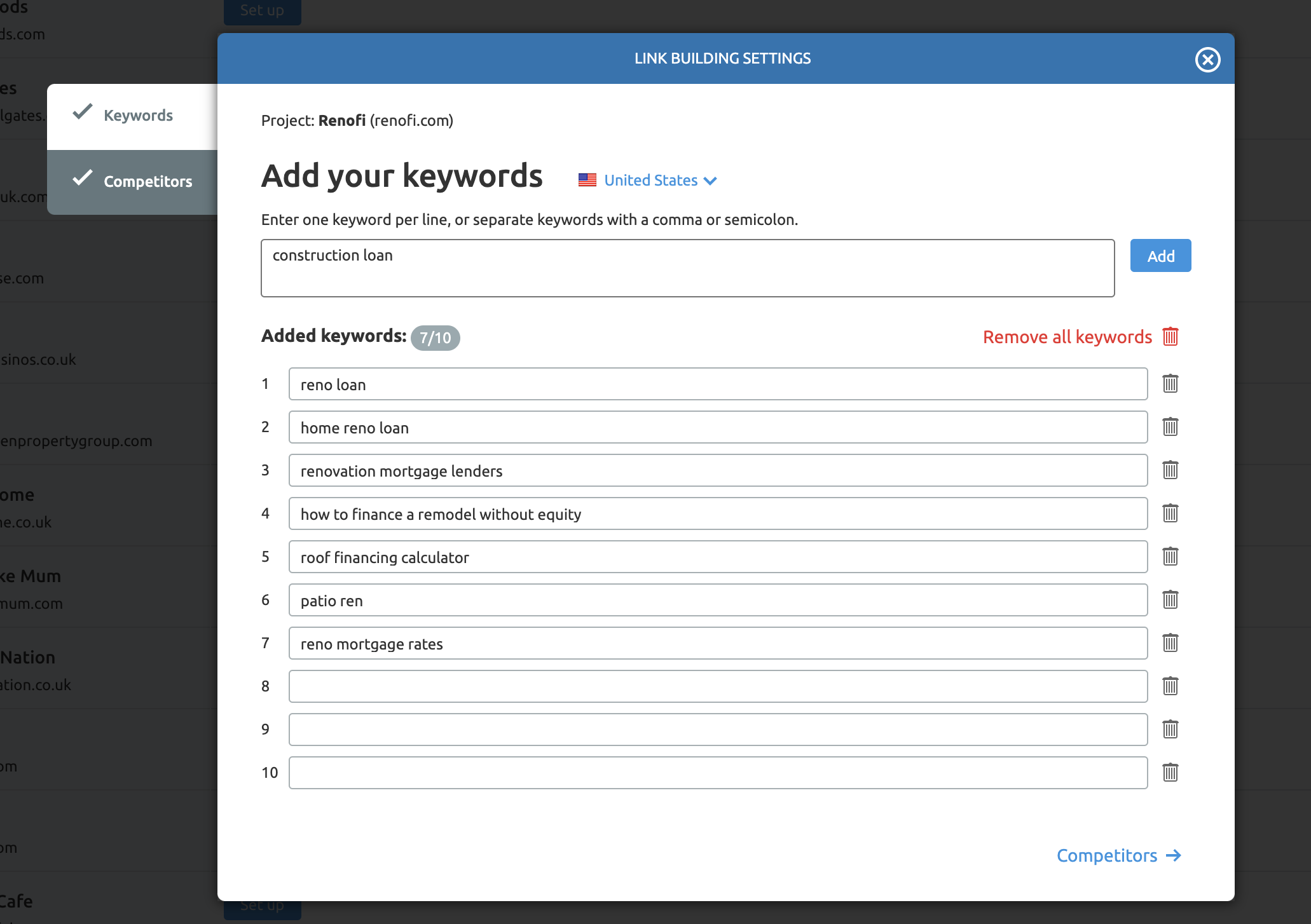 Once you've added these, click onto the 'competitors' tab to add your site's main competitors.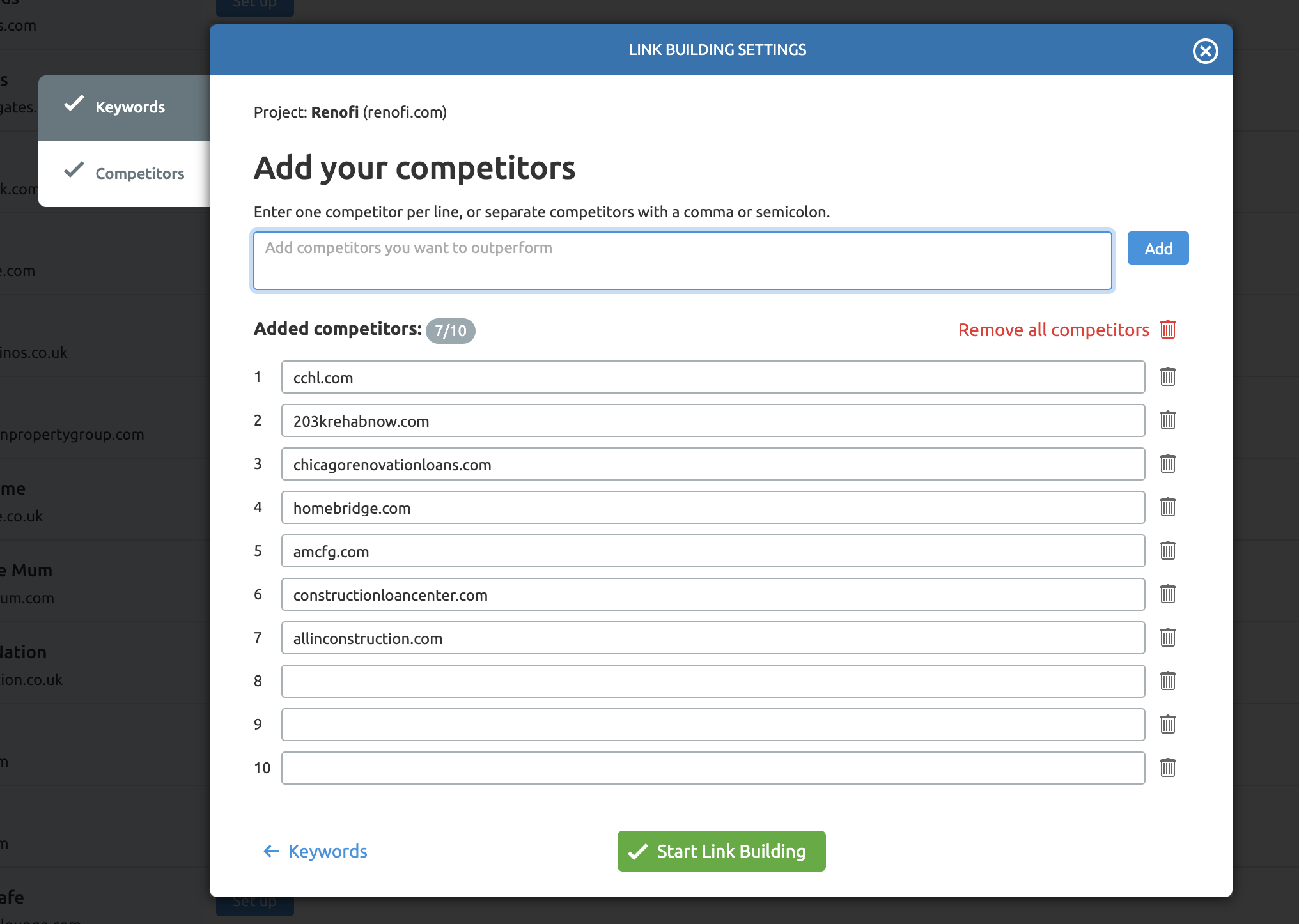 Hit 'start link building,' and the tool will find a whole host of link building opportunities for you to explore.
In most cases, the 'All Prospects' tab is the best place to start, as this will show the highest number of opportunities.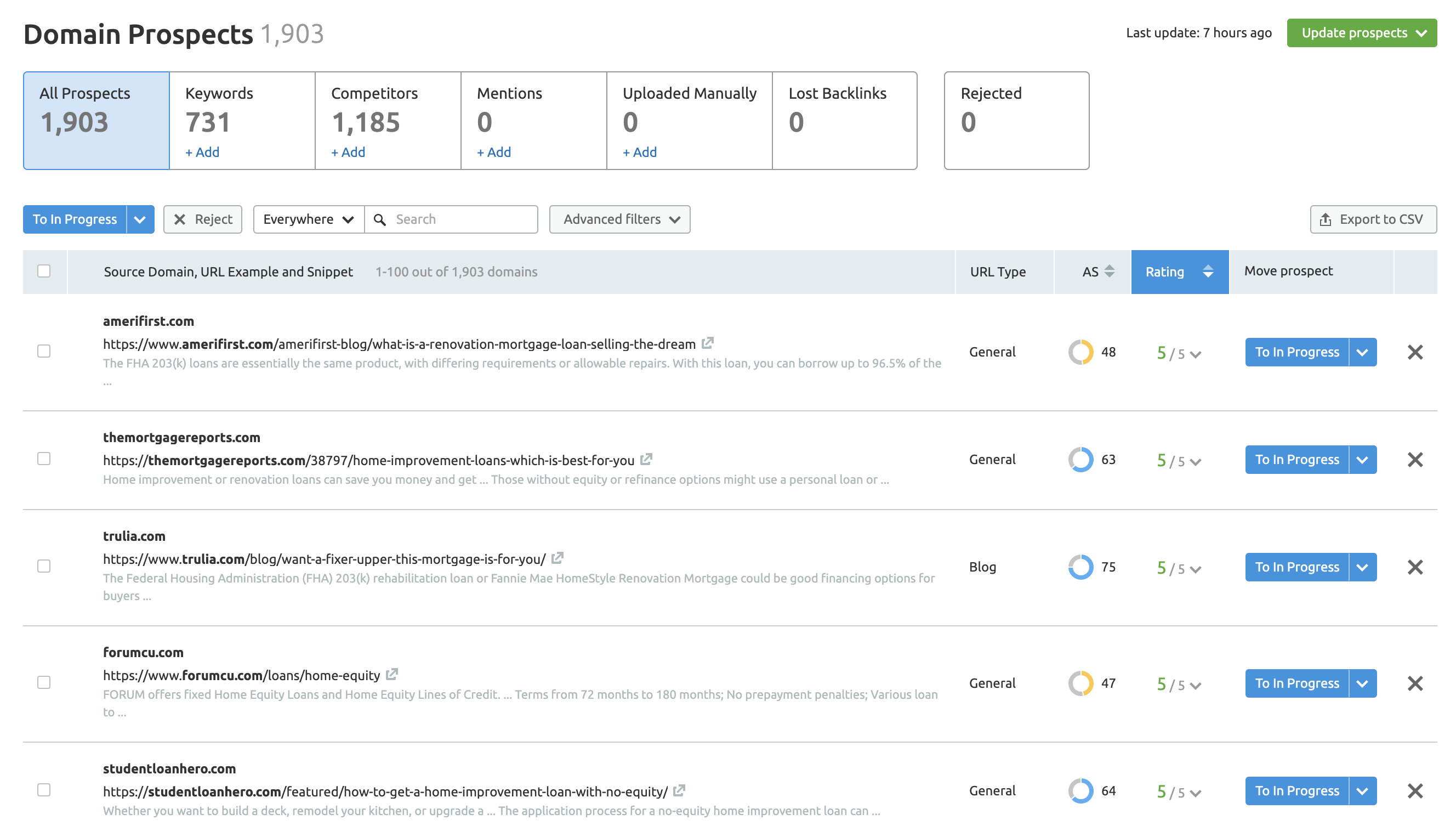 Under each prospect presented to you, you'll be able to dig deeper into the quality of the opportunity by opening up the 'ratings' dropdown, and you'll also see the domain's Authority Score.
Tick any prospects that you want to pursue (left-hand column) and hit the 'To in Progress' button. Here, you'll be able to choose how to categorize your outreach strategy.

These will then be moved to the 'In Progress' tab, where you'll be able to send your outreach email and track the progress of your efforts and get reminders for any opportunities that you need to follow up on.

The link building tool is the perfect way to quickly find fresh backlink opportunities while also helping you send and keep track of your efforts' success. 
7. Hunter
Have you ever struggled to find an email address for a potential link building opportunity? We've all been there.
It can be really disheartening when you're confident that the prospect would love your content, but you just can't find their email address, no matter how hard you look on their site or search on Google.
Hunter is the perfect tool to help you out in this situation.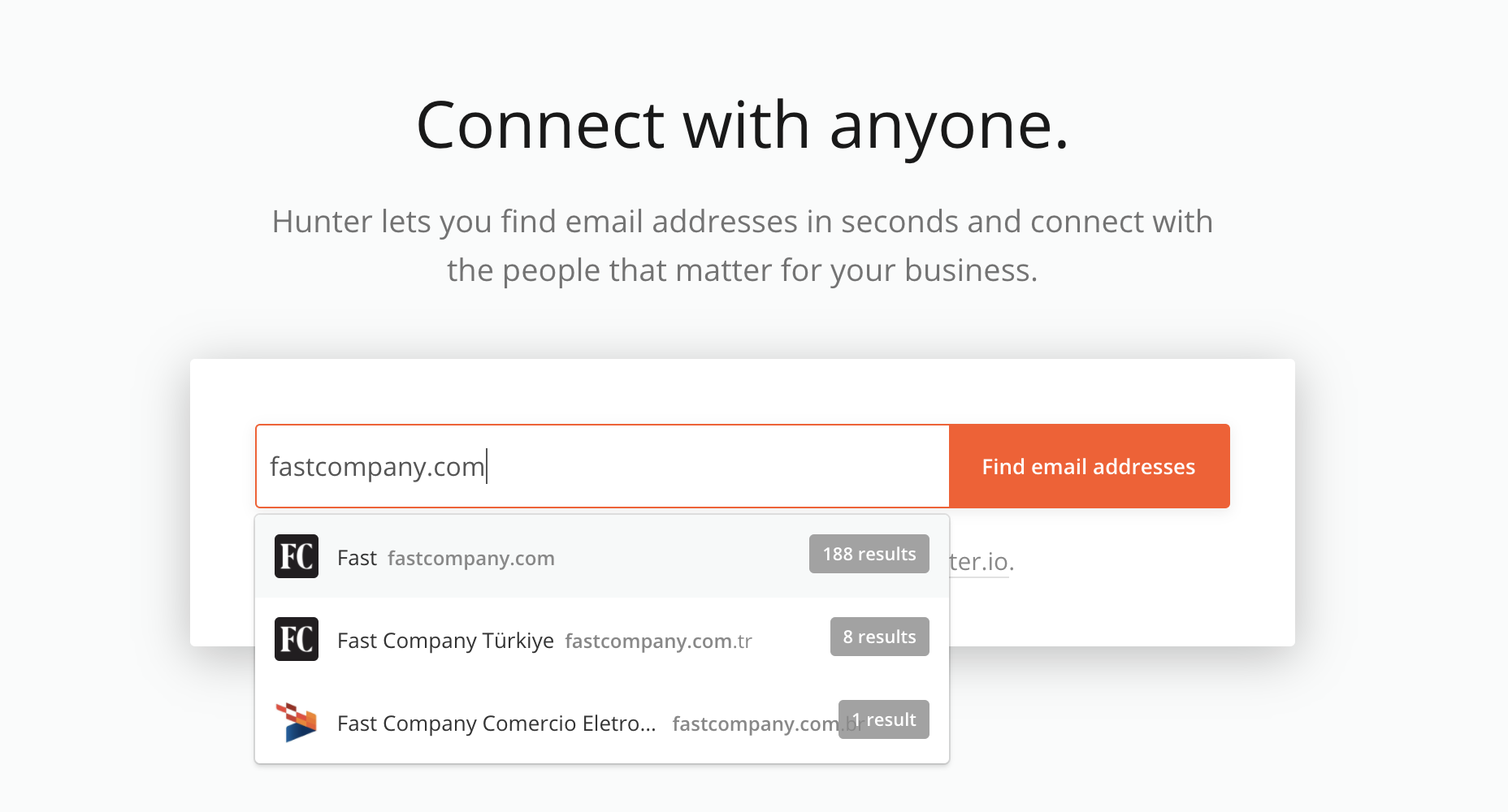 Enter a domain name or company and hit 'Find email addresses' to see a list of emails for people at the website or publication.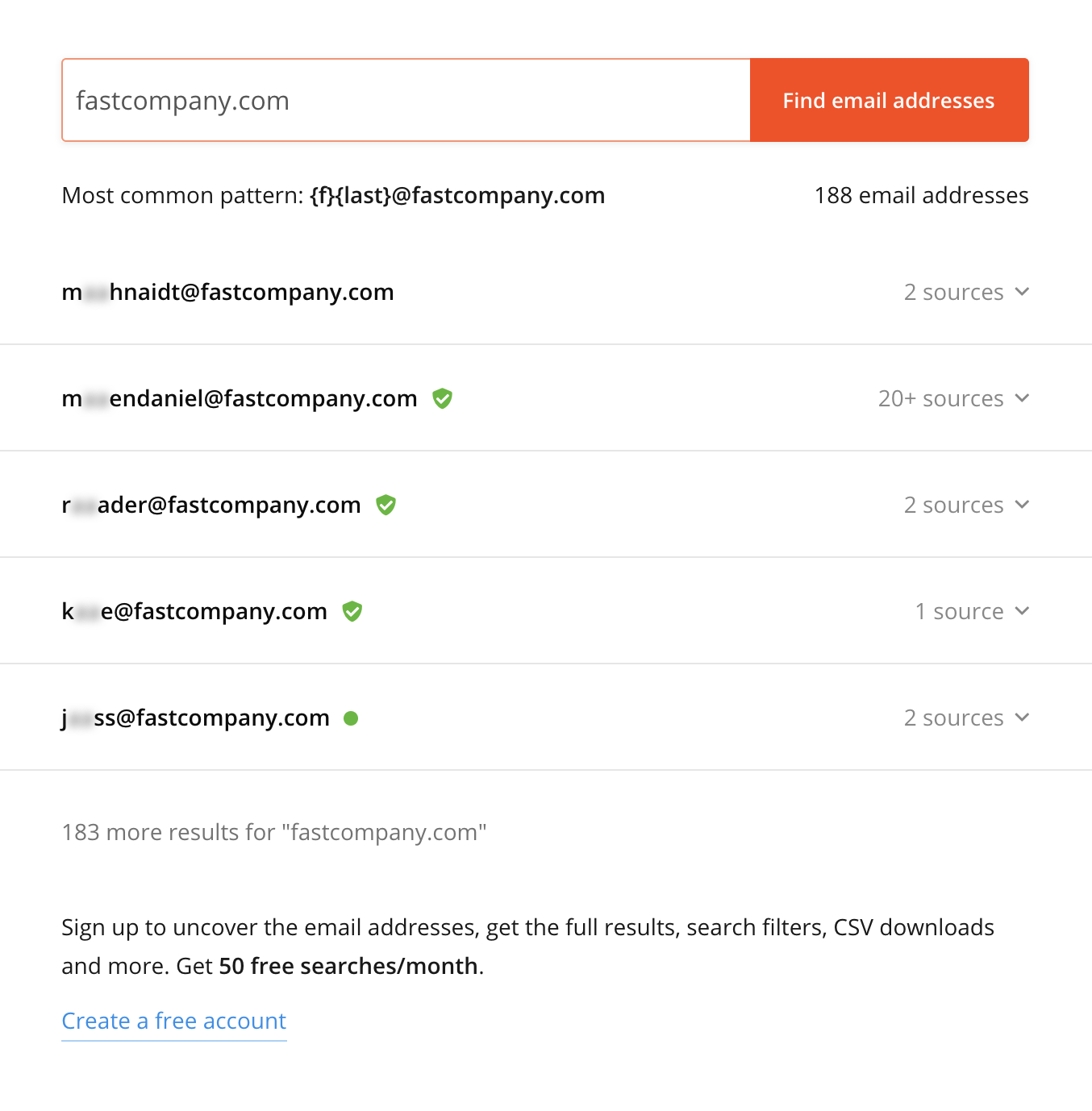 Even without an account, you'll be able to see the most common pattern for the domain, making it easy to take an educated guess if all you know is a journalist's name. But you'll also see a list of sources alongside returned results, helping you to confirm the correct email address or format. 
If you want to use the tool to its full capacity, you can sign up for a free account and get 50 searches per month and filter results and download CSVs. Hunter can help cut short those lengthy searches for someone's email address, leaving you more time to find further prospects to outreach. 
8. GroupHigh
Great content deserves to be distributed, and smart link builders are wise to the fact that the more people who know about a piece that's launched, the greater the chances of it naturally picking up links. 
And knowing who to lean on to help distribute your content is one of the fast-track paths to success.
GroupHigh has built the world's largest, richest, and most current database of blogs online. You can use it to find new prospects, identify influencers, and find other individuals who could further amplify your content.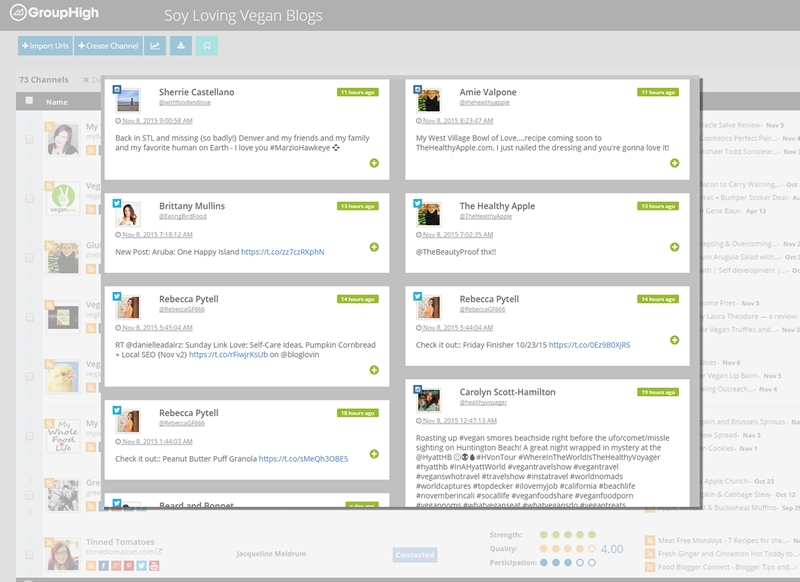 In fact, the number of bloggers in their database currently sits at more than 15 million.
In their own words, "GroupHigh makes it easy to find blog posts, tweets, Instagram posts, and YouTube videos related to your campaign saving you oodles of time to analyze the results."
9. Google Sheets
Google Sheets is any link-builders best friend. 
While it's not technically a link building tool in itself, it's the perfect way to plan and manage your entire workflow. Google Sheets can be used to:
Analyze web scrapes to help find prospects
Store prospect lists and track the progress
Record successfully acquired links
Best of all, it's the perfect way for multiple different people on your link building team to collaborate, and you'll only need one sheet per project. One place for collaborating helps streamline your processes, and Google Sheets is both versatile and robust enough for you to build your workflow around. 
10. SEMrush Brand Monitoring Tool
If your brand is being mentioned online, but these aren't linked, there's an opportunity to reach out and convince the journalist or webmaster to add one in.
And for any business discussed online, a campaign to target unlinked brand mentions is often a quick-win way to help your PR efforts work harder.
You can use the SEMrush Brand Monitoring Tool to find mentions of your brand online and use the tool's 'link to website' filter to see those that don't link.
Choose your date range, and then you're able to see a list of mentions that you should target with a justification to help show the value that a link would add.
After all, you've done the hard work of landing the coverage. Now you just need to persuade the journalist or webmaster to add a link.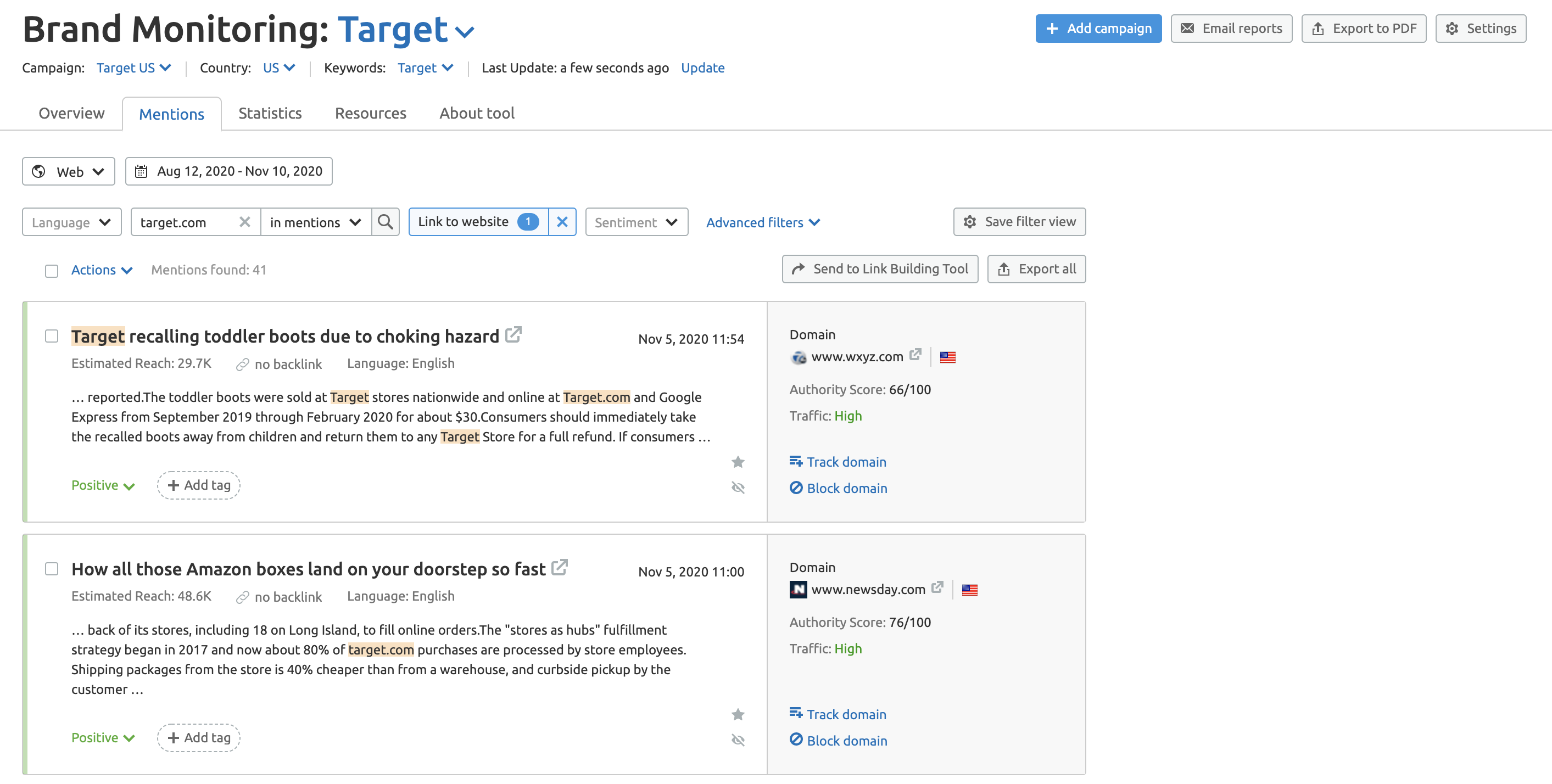 You can send any opportunities that you want to explore straight to the link building tool to help you to manage any progress and directly reach out to the website or journalist. 
Bonus: 5 Chrome Extensions Every Link Builder Needs To Know About
Alongside using the right set of link building tools, you'll also find that Chrome extensions can help make certain tasks easier or faster to do. As a bonus, here are 5 Chrome extensions that every link builder needs to know about:
11. Check My Links
Check My Links is a simple but powerful extension that crawls a web page and checks for broken links.
The purpose of this was intended as a way for web developers to double-check that there aren't any broken links on their pages. However, it can help SEOs to find opportunities for broken link building campaigns.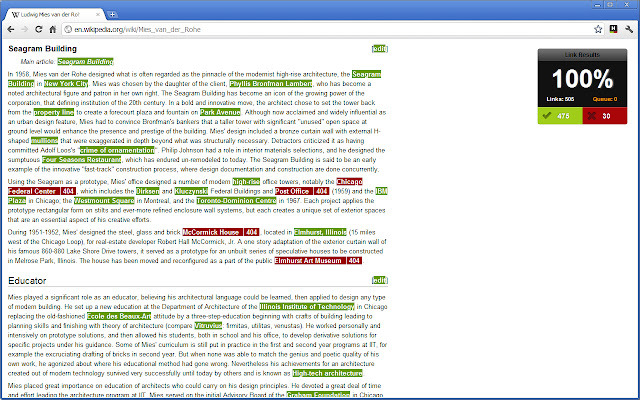 Image Source: Chrome Web Store
You can easily check for broken links on web pages and sites that you're looking to land a link on while also using the extension to ensure that your own site isn't linking out (or internally) to dead pages.
12. Nofollow
Nofollow can outline nofollow links on a webpage for you, meaning you don't need to view the source code of a page or inspect element to see whether or not that latest link you landed has had the rel="nofollow" attribute applied.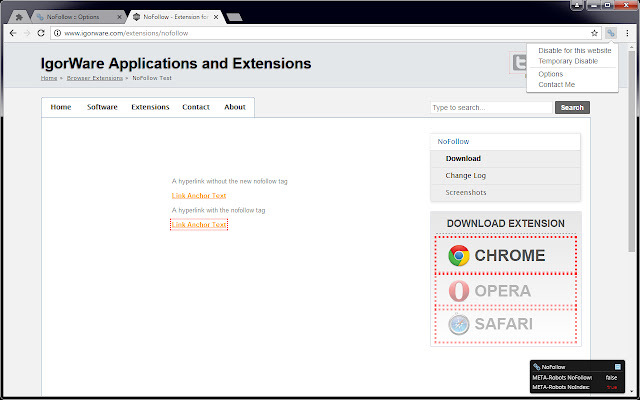 Image Source: Chrome Web Store
This can help save time and speed up your link reporting.
13. Scraper
Scraper helps you to collect data from web pages as a spreadsheet. When it comes to using this as a link building tool, it's an effective way to scrape the SERPs to find link opportunities or compile data studies for digital PR to help you pull down data.
You can use the tool in a similar way to Scrapebox that we looked at above, but have it as a handy Chrome extension.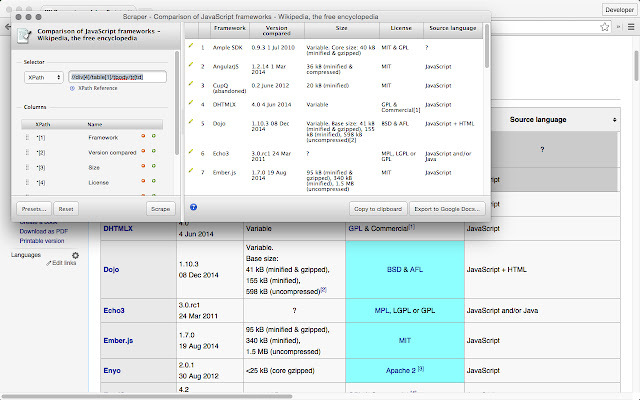 Image Source: Chrome Web Store
To note: You will need to understand how to use XPath to use the Scraper extension.
14. Linkclump
One of the most frustrating things when checking out potential link building opportunities straight from the SERPs is opening up web pages in a new tab by right-clicking and selecting this.
Linkclump can help you save a few seconds on every page while prospecting for link opportunities, simply by allowing you to open or copy multiple links simultaneously. It's as easy as dragging a selection box around the links you want to use.
Image Source: Chrome Web Store
It might not sound much, but saving even a second on every prospect can quickly add up over hundreds or thousands of opportunities across a week, month, or year. 
15. SEOquake
SEOquake is "A Powerful SEO Toolbox for your Browser" and can help you to carry out many SEO tasks straight from your browser.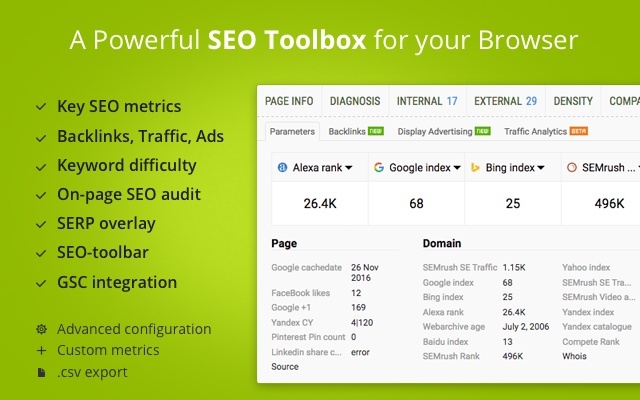 Image Source: Chrome Web Store
Here are just a few tasks that the extension can help you with:
Quickly viewing all major SEO metrics 
Analyzing the SERPs and exporting as a CSV
Estimate the keyword difficulty of a search query
Run a complete SEO audit of a web page
Examine internal and external links
It's an extremely versatile and useful extension that we're pretty sure you'll love, helping you to conduct tasks to take your site's performance to the next level in real-time.
---
Link building tools aren't there to do your job for you; rather, they help you make your workflow more efficient. Combine the right SEO tools with an ability to write persuading outreach emails, and you'll put yourself in the perfect position to build links that help you to compete on even the most competitive SERPs. 
Happy link building!