Whether you're crafting a thorough go-to-market strategy or reevaluating an existing business, market analysis is at the heart of any future scenario. We've already covered how to run in-depth research, but you don't always have to bury yourself in complex business and market models to underst the market landscape before you choose to enter it or diversify.
This post will uncover how it can take no more than an hour to estimate market size and composition, note the most visible trends, and outline the market segments to make your further work easier. Among other things, these insights can help you persuade investors that you are aware of the environment you are competing in and you are worthy of their consideration.
Detect General Market Growth Dynamics
You can, of course, dig into various data sources - from Forrester-like industry reports to prominent analyst recaps - but with an ever-changing market landscape and factors that affect it (just think of the pandemic), you need a reliable source of real-time market data that will signpost emerging trends and demand patterns. 
With many businesses shifting their operations online - a digital transformation trend that only accelerated during the pandemic - online market indicators often accurately reflect the market dynamics. 
This is what the  Semrush. Trends solution brings to the table - a quick yet thorough overview of the market landscape that can help you quickly understand whether you need to carry out and invest in any further research. 
We'll take the brands and car dealers market as an example here, which should give us a great head start for any further market evaluation.
How to Estimate a New Market
While industry size is usually measured in dollars (or any other local currency), the market size counts in the number of potential customers. In the online space, traffic equals market size. And before doing any other research, you have to get this part of market analysis right.
The Market Explorer tool shows a set of handy reports that reflect insights on key market players and the industry as a whole. 
In the Market Overview report, you can find the overall amount of traffic a specific market is getting and its rate of growth over past periods. 
To turn this report into a rough revenue forecast and budget calculation, you can simply use any financial intel about your researched market - say, an annual report about the overall revenue of the Automotive industry in 2018 - and cross-reference these numbers with traffic counts throughout 2018, and, thus, make a financial estimate based on current traffic numbers.
Based on Market Overview stats, with a slight slowdown at the beginning of the pandemic, the Automotive industry seems to have quickly gotten back in shape, showing a growth trend.
Evaluate the Potential of the Location
Once we have an overall idea of the market size, we have to understand that the growth trend we observed across the entire niche may not be consistent in all locations. 
Looking at the Geo Distribution report, we can see that the top location to target would be the US, followed by Canada - these are the only two countries that are making it to both the top countries and fastest-growing market lists.
Deepen Your Market Analysis
With a clear and data-backed focus on the US, we can deep-dive into more granular market dynamics within the niche.
The automotive industry is a pretty extensive space, so we'll break down our market analysis into smaller pieces, to look at online demand for car dealerships and user interest in specific car brands. This should help us understand whether car dealerships are a good market to enter, and, if so, which car companies should be represented and featured.
We used Traffic Analytics to gather traffic data for the top 100 car dealers in the US: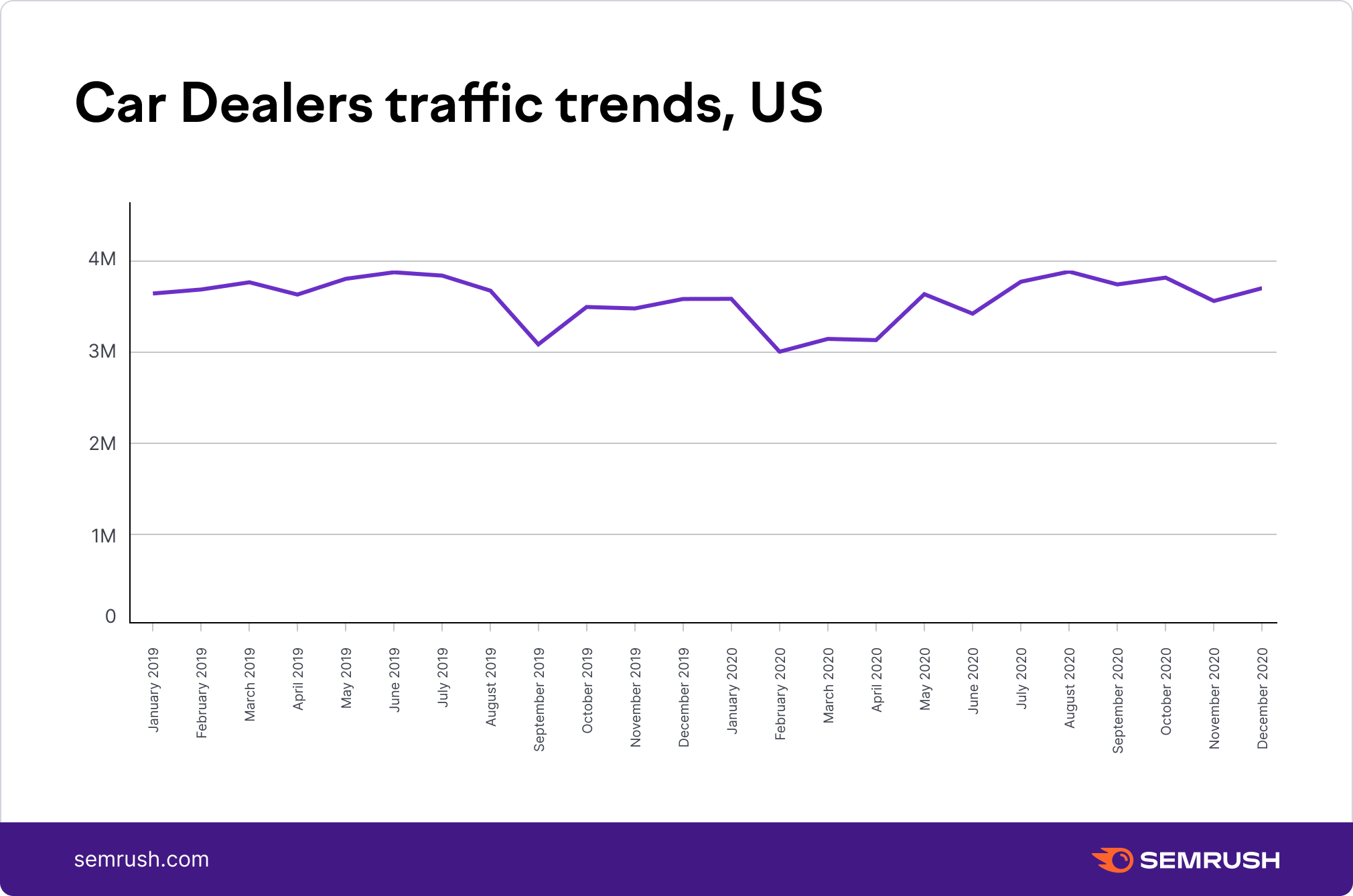 While the YoY numbers seem to be consistent, the traffic tends to plummet and show downward volatility, which is a worrying sign if you are thinking of starting a car dealership business. 
Yet, taking the pandemic context into the equation, the sheer fact that user interest in car dealerships hasn't gone down overall is a good enough sign that there is some market potential, and with the expectations for economic recovery, we could expect an upward growth trend.
Another reassuring stat is that traffic to specific car brands' sites has significantly increased, growing at over 50% YoY.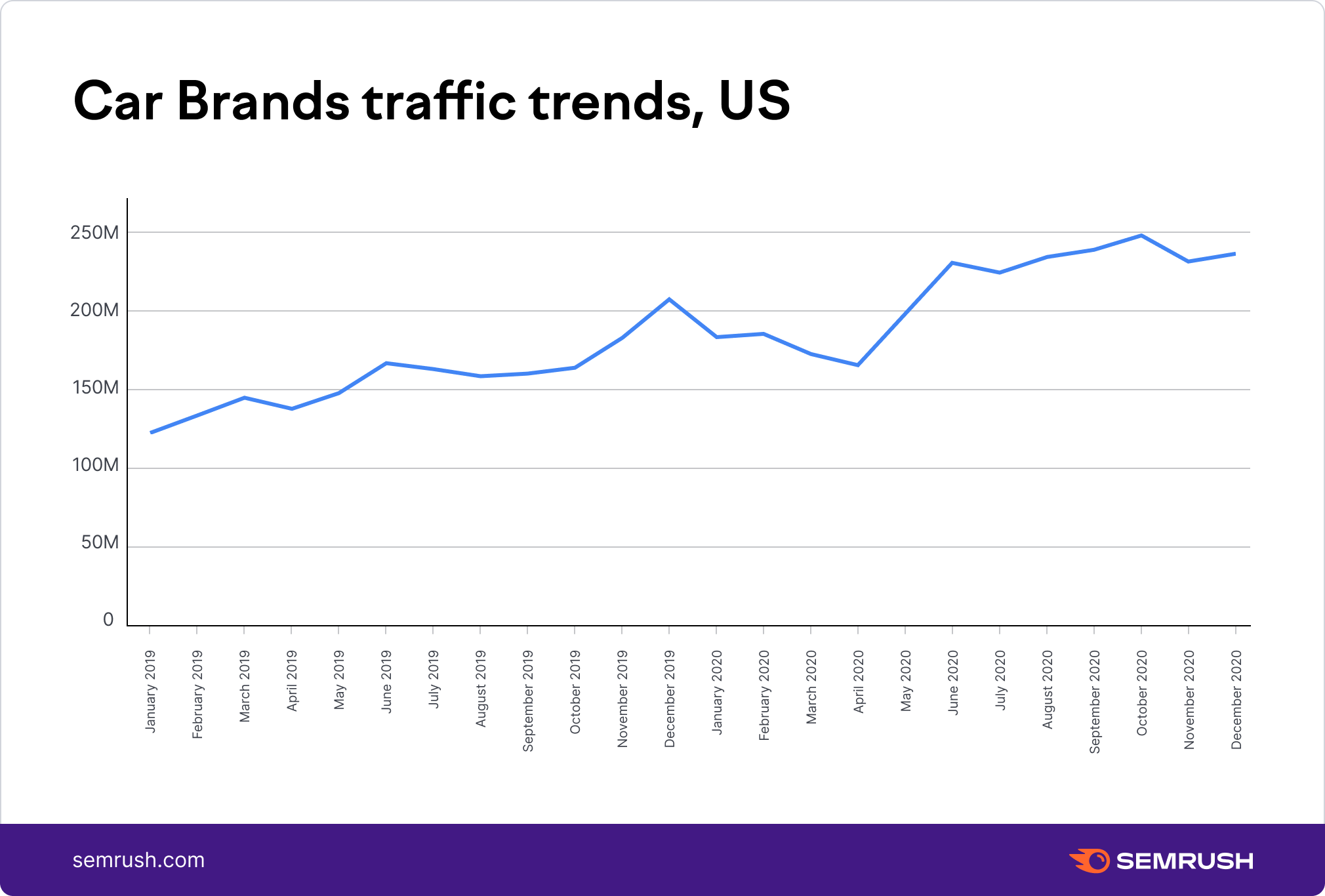 This may imply that there is indeed a demand for cars - meaning, car dealerships aren't seeing any less demand - but it may really depend on which car brands are represented. 
So, with access to historical data, we collected YoY traffic volumes for different car companies to see which brands are seeing a rise in traction online:
Top Car Brands, US
| | | | |
| --- | --- | --- | --- |
| Car Brand | Total traffic 2019 | Total traffic 2020 | Change |
| | 231.6M | 281.1M | 17.6% |
| | 133.4M | 233.2M3 | 42.8% |
| | 161.5M | 203.1M | 20.5% |
| | 128.3M | 142.1M | 9.7% |
| | 119.3M | 133.1M | 10.4% |
| | 74.4M9 | 125.6M | 40.8% |
| | 68.6M | 84.4M | 18.7% |
| | 65.6M | 75.3M | 12.9% |
| | 62.3M | 66.7M | 6.5% |
| | 53.7M | 69.1M | 22.2% |
Look at the User Demographics and Psychographics
Now when we have a clearer understanding of our market dynamics and target audience's demands, we have to get a better idea of the typical buyer persona.
Of course, drafting a portrait of your future customer is a thorough process, yet at this point, you only need rough outlines that will steer you and your marketing strategy plans in the right direction.
The Market Explorer tool gathers all the preliminary intel on a typical user browsing through the sites of the key market players within your analyzed niche.
In the case of the automotive industry, we should expect to target a male audience aged between 35-55. 
What's more interesting, though, is to look at the In-Market Audience Interests report, which reveals which broad topics interest your target audience - this should help you better understand where you can 'catch' your perfect buyer and, thus, which marketing partnerships and advertising platforms to tackle at the marketing strategy stage.
The Key Audience Drivers Within Your Market
When you pinpoint the key patterns within your market - location attractiveness, market growth/decline trends, demand shifts, and user interests - the next step is to deep-dive into the ways to drive audiences to your offer/product/solution. 
Thanks to the pandemic-inspired rapid digitization, even typically conservative 'offline' industries like the automotive one need to think of targeting people who were forced to shift online in search of a car dealership.
So, the research phase has to go on, and here we have to focus on the competitive research part of market analysis.
The more details you learn about your competitors' product marketing, the easier it will be to gain an advantage. 
Carry Out Product Research
Before understanding competitors' strategies, you have to first get under your potential customer's skin. 
Initially, start by answering the main why's behind the product:
Why do people need it in general?
Why do people buy it from this particular company? (The answer may be anything from the price to the design.)
Why do you believe you can compete with them?
One way to get into the head of a competitor's customer is to become their customer yourself, at least for a trial period. This way, you will get the most practical insights:
What features their product/service includes;
How much it costs;
How easy it is to go through the customer journey — from discovering the company to actually becoming a client;
How easy it is to use the product/service;
How easy it is to get support or contact the company at all;
How they handle interaction with their clients — you may get subscribed to the company's newsletter and get an inside look at their communication style;
How well they actually solve the problem;
How they could improve (and if they show any potential to improve).
Finally, write down how you may be better than them in each of these points — or just different; in some markets, tweaking your offering just a little is enough to succeed.
Analyze Competitors' Marketing Strategies
Then, of course, you have to dissect your potential rivals' actual audience generation strategies - from top traffic channels to precise platforms that should be tackled with your marketing campaigns.
But before you go into the nitty-gritty details of your rivals' precise traffic acquisition tactics, pay attention to the devices that people use to land on their sites.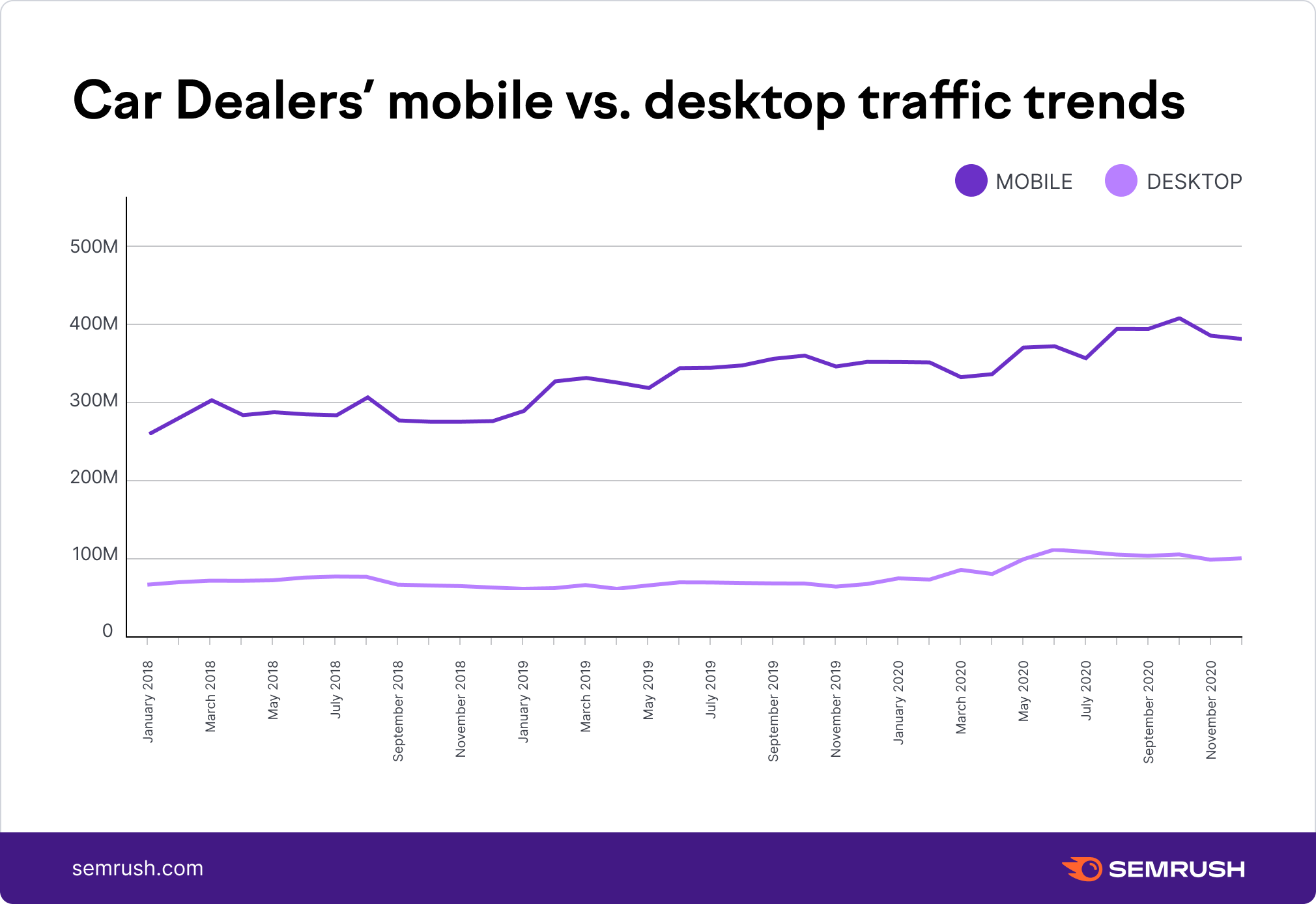 In our case, Traffic Analytics reveals that a whopping 81% of users who visit car dealership sites tend to use mobile devices. This is a strong upward trend that only grew by 52% during 2020. So, if you're entering the car dealership space, the entire marketing and digital strategy has to be drafted and executed with ' mobile-first' in mind.
Unwrap Your Rival's Top Traffic Channels
Market Explorer reveals how your industry's key market players go about attracting people to visit their sites, with precise estimates on traffic channels that bring the highest audience counts.
It's clear that car dealerships tend to place a big bet on brand awareness, as Direct search is responsible for around 57% of the total traffic. Next in line is Search, which brings in about one-third of site visitors. Interestingly, both sources are steadily losing their share of significance, with Social, Referral, and Paid channels growing in importance throughout 2020.
So, instead of simply looking at the top traffic sources for your top rivals, you also have to pay attention to channel share trends - all reflected within the Market Explorer tool - because sometimes this early spotted shift in user acquisition strategy may indicate a bigger change that you can leverage to your advantage. 
Discover Precise Platforms for Catching Potential Customers
It's not enough to just unveil the channels that drive the highest audience numbers to your competitors' sites. If possible, you have to uncover which platforms users visit before and after they land on the competing offer. Traffic Analytics makes this possible.
To understand where we can potentially 'catch' our target audience, we can enter up to 5 rivals into the tool and get a list of platforms people typically browse before visiting the competitors' sites.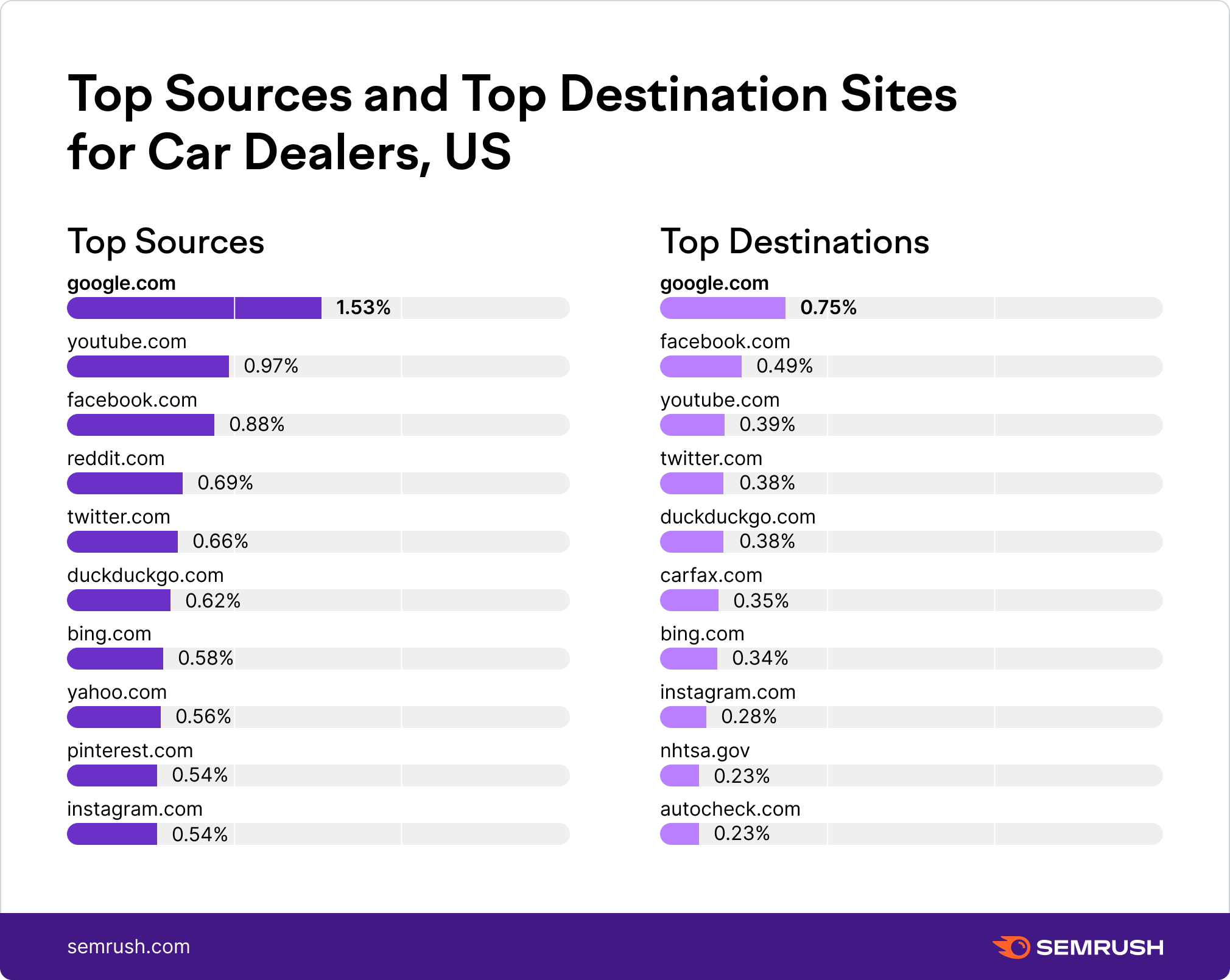 Within the car dealerships space, the top platforms are Google, YouTube, Facebook, and Reddit, which translates for us into the fact that we'd potentially have to invest in organic or paid search, and a consistent presence across the top social media networks, from creating a YouTube channel about cars to running Facebook ads. 
It's also important to look at Top Destinations, or sites people visit after they land on the competitors' sites - this list can be a great source of ideas for running ads in quest of hooking the right audience on the right platforms.
Final Words
The process we've described in this post is a great way to start your journey towards entering uncharted territories and pinpointing your market potential. Yet this, of course, is a pretty superficial approach to market analysis. 
Once you see that the industry is growing, the audience demand is still out there, and you have real potential to compete against the top players, you can justify why you need to dig deeper and invest your time and efforts in running in-depth market research and extensive competitive analysis.