In our SEO Reality Show series, we've been sharing the individual steps a partner agency took to help an artisan bakery improve their search visibility, capture quality web traffic, and convert site visitors into customers.
Four months have now passed since they started this journey, so we created this case study to share some preliminary results and insights with you. 
About the Client
Edelweiss Bakery is the subject of this SEO case study.
Edelweiss is a small local bakery in Fort Lauderdale, Florida (U.S.) that makes a variety of freshly-baked goods, including traditional artisanal bread, European pastries, cafe items like soups and sandwiches, and more. 
They've been in business for over 20 years, and though they are a popular location with locals, they struggled to attract the kind of organic search traffic online that they wanted. 
About the Agency
The agency partner helping Edelweiss Bakery with their SEO and site challenges is Why SEO Serious, an international SEO agency. 
This agency offers internet marketing services specializing in both SEO and analytic services. They work within modern frameworks to increase the growth of site traffic while assessing behavioral factors and daily monitoring.
The Challenge
Edelweiss Bakery's primary challenges included a lack of online and offline orders, and lower than desired brand visibility online and in search engines — challenges that were directly impacting their business. 
The Solution
For this SEO Reality Show Series, we paired Edelweiss Bakery with Why SEO Serious agency so they could work together to resolve the technical and strategic issues preventing the bakery from getting the visibility and sales they wanted.
The agency identified eight optimization tactics that could help Edelweiss resolve their challenges and reach their objectives. 
Conduct competitor research
Explore link-building opportunities
Improve the bakery's website structure
Run keyword research for site's homepage and overall digital presence
Conduct a technical SEO audit
Redesign the bakery's homepage
Optimize the bakery's meta title and meta description 
Update the bakery's Google My Business profile and register for local directories
The Implementation
Below is a high-level recap of what the agency did during each step of their strategic optimization process. For a deeper dive into each implementation step, we've linked to the specific blog post that focuses on the agency's strategy and tactics. 
1. Conduct Competitor Research 
In part one of this series, we shared how the agency helped Edelweiss better understand who their online competitors really are. This was done by using online tools to identify top performers who were in the same industry and ranking for similar keywords. 
Competitor research not only helped the agency identify who the bakery's competitors were, but it also helped the bakery realize that their most significant online competitors were different from their local, offline competitors. 
Tools the agency used to identify organic online competitors: 
You can see the details here.
2. Explore link-building opportunities 
In episode 2 of our series, the agency identified which keywords and pages helped competitor sites collect the most traffic and how backlinks contributed to driving that traffic. 
Their aim was to help Edelweiss build a strong backlink profile by getting more links to their site pages from other domains, increase their domain authority (DA) score and rank higher in the search results. The agency's strategy was to assess Edelweiss's link profile and look for new backlinking opportunities. 
Tools the agency used to find link-building opportunities for the bakery:
3. Improve the bakery's website structure
Stage three of the agency's process was centered around improving the structure of Edelweiss'website. The goal was to ensure that every potential entry point was fully optimized to appeal to more users.
The larger and wider the site structure, the more opportunities the bakery would have to appeal to their target audiences.
To improve their site structure, the agency suggested reducing the number of pages and sections on the bakery's website and providing more relevant content on the existing pages..
Tools the agency used to build a more effective site structure for Edelweiss:
4. Run keyword research for the site's homepage & overall digital presence
To help Edelweiss attract the right visitors to their site, the agency focused on keyword research for the bakery's homepage. 
In collaboration with the bakery, they developed a finalized list of relevant, high-intent key phrases. This list of keywords was then used to help guide the bakery's homepage content as well as the meta title meta description.
Tools the agency used to conduct keyword research for Edelweiss' home page:
5. Conduct a technical SEO audit 
To ensure that Edelweiss was not missing out on opportunities to improve their SEO ranking potential, the agency conducted an SEO audit.
By analyzing the technical state of the bakery's website, the agency gained better insight into where Edelweiss' website was struggling beyond keywords and site structure and compiled a list of issues for the site's developer to address. 
Tools the agency used to conduct an SEO audit of Edelweiss' website:
6. Redesign the bakery's homepage 
With the previously compiled data thoroughly researched and carefully sorted through, the agency was able to apply these insights to update and optimize Edelweiss Bakery's homepage. 
They created a mockup of a new homepage that would appeal to all segments of the bakery's target audience while improving site performance on desktop and mobile.
Tools the agency used to create a mockup of a new homepage design for Edelweiss' site:
7. Optimize the bakery's meta title and meta description 
With the redesign of Edelweiss' homepage complete, the agency focused on creating a new meta title and meta description for their homepage to help improve their SERP ranking and increase their click-through rate. 
They used the findings from their earlier keyword research and paid close attention to search intent. 
Tool agency used to create a strong meta title and meta description for the baker's new home page:
8. Update the bakery's Google My Business profile & register for local directories
The final step in the agency's process to improve Edelweiss's online presence was to revamp their Google My Business (GMB) profile.
The agency also looked for additional opportunities with online registries to help increase the bakery's reach and used an automated tool to submit the bakery's information to new registries, creating a more well-rounded digital presence. 
Tool the agency used to distribute the bakery's business data automatically to the most authoritative directories:
Results
Three months is normally a realistic timeframe to start evaluating results after you start a new SEO campaign or make significant changes as this is approximately how long it can take to start seeing the true impact of those optimizations. 
However, in the case of this collaboration between Why SEO Serious and Edelweiss, it's taken the bakery team a bit longer to implement the recommended improvements to their website. For example, of the 8 technical improvements recommended by the agency, only 4 had been implemented within this 3-month timeframe. The other 4 are still in progress. In terms of tracking results within a set time frame, the biggest challenge in this particular case was the implementation of improvements on a client's side.
The positive news is that, even with only half of the recommended changes in place, the bakery is already seeing good results. 
Within this four-month time period, the agency was able to implement improvements on increasing the quality and quantity of links. As a result of their work, both organic traffic and ranking positions improved for multiple keywords. The chart below shows the position distribution for the keywords Edelweiss wanted to rank for. 
Data pulled from Semrush's Organic Search report:
| | | |
| --- | --- | --- |
| Position | Keywords Quantity on May 2021 | Keywords Quantity on August 2021 |
| TOP-3 | 5 | 7 |
| TOP-10 | 3 | 7 |
| TOP-50 | 36 | 53 |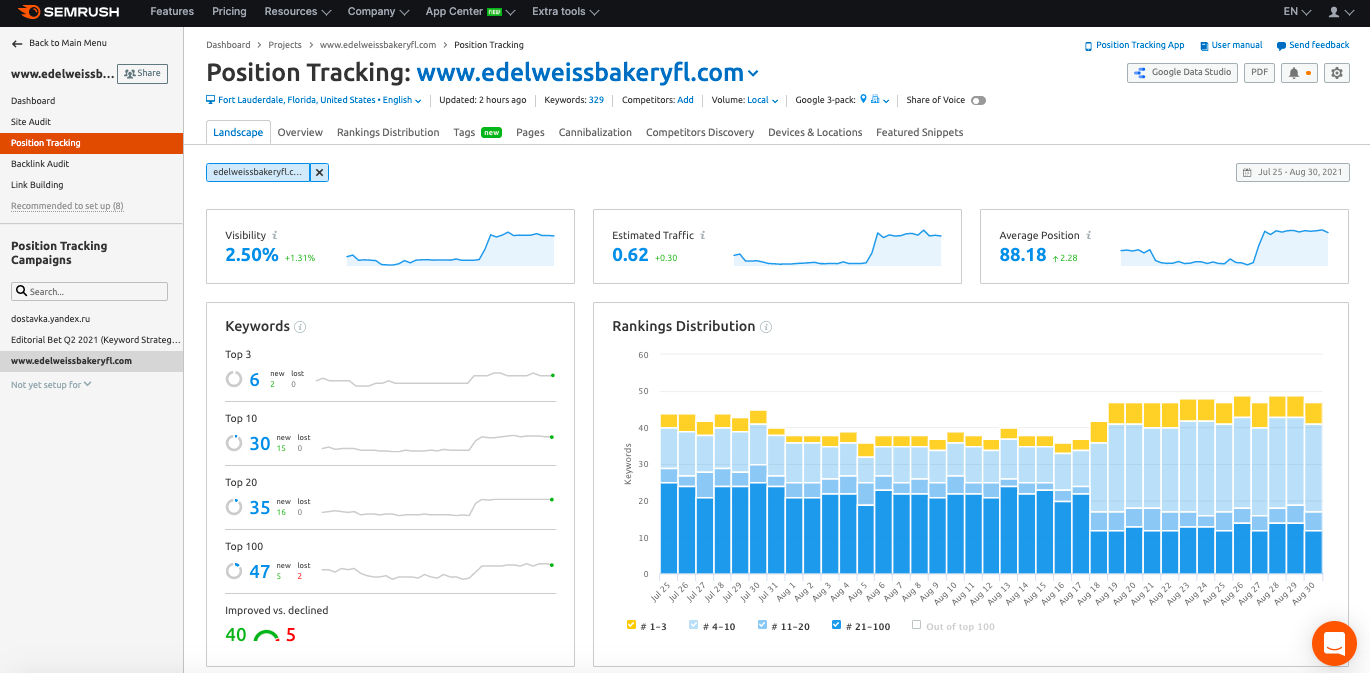 | | |
| --- | --- |
| Organic Traffic Clicks May | Organic Traffic Clicks August |
| 337 | 1057 |
Organic traffic grew 214% between May 2021 and August 2021, increasing from 337 clicks to 1057.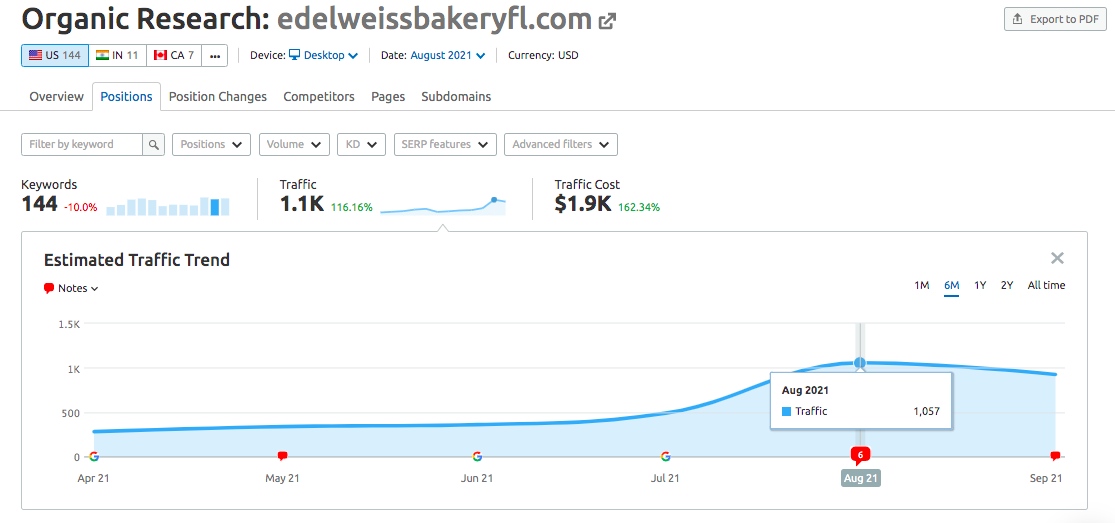 Overall, despite only half of the recommended improvements have been implemented on the client's side, the results thus far have been both positive and significant. We anticipate even better performance for Edelweiss's website as the additional optimizations are implemented. 
Next Up
We've got preliminary results for our SEO Reality Show's bakery, but we're not done! That's right, more optimization steps are still in place! Stay tuned for our next series of episodes, where the agency will create and optimize a brand new blog for the bakery!
Infographic: How to Increase Organic Traffic by 214%