What Is Anchor Text?
Anchor text is the visible, clickable text in a hyperlink. It's usually highlighted and underlined, indicating a link to another web page or document. This text provides context about the linked content and is important for both users and search engines to understand the relevance of the link.
Using descriptive anchor text is good for user experience and SEO. It helps users and search engines understand what the linked resource is about.
Let's say you were linking to the Semrush blog. It's better to use descriptive anchor text like "Semrush blog" rather than generic anchor text like "click here."
Why Is Anchor Text Important?
Relevant, descriptive anchor text can improve your website's rankings on Google. And it can enhance user experience.
That's because both search engines and readers use anchor text to determine what a linked page is about.
Which means:
Relevant anchor text helps the Google algorithm understand your site structure. And provides it with more context about how different pages are related. 
For example, the anchor text "best pizza" tells Google that the page that follows is about the best pizza.

On the other hand, in this anchor text example, text like "Click here" gives zero context and is less helpful.

When you add anchor text to your own content, you have complete control over how descriptive it is. In the above example, "best pizza" is much more descriptive than "click here."
8 Types of Anchor Text and How They Work
These are the eight most common types of anchor text you can use on your site:
Branded
This refers to a brand name used as the anchor text, without any additional words. Branded anchor text works well if you're citing a source or linking directly to a website.
Examples:
"Use Semrush to check audit your site"
"Shop at Costco for great deals on your favorite snacks"
"Visit Café du Monde to try their famous beignets"
Brand + Keyword
This type of anchor text includes your brand name (or branded phrase) plus an additional keyword or some contextual information.
Examples:
Exact Match
Exact match anchor text includes the exact keyword the page it is linking to is targeting. 
For example, linking to a page about sleeper sofas using the anchor text "sleeper sofa."
Examples:
Take note that Google may view an excess of exact match anchor text as a red flag. 
Let's use the "sleeper sofa example" again. 
If you continuously use the anchor text "sleeper sofa," Google may have a tougher time determining the structure of the page. Which can make it harder to rank.
Partial Match Keywords
Partial match anchor text includes a variation of the keyword the linked-to page targets. 
This means the target keyword is partially or fully included in the linked text, along with some other words for context.
Examples:
Related Keywords
Related keyword anchor text is similar to partial-match anchor text, but it doesn't include the actual keyword. 
This type of anchor text is a good way to provide context about a page you're linking to without overusing the same keyword.
Examples:
Naked Link
"Naked" anchor text is when the link's URL is used as the anchor text. 
You'll sometimes see these at the bottom of articles as reference links.
Examples:
Use naked link anchor text only as needed, as it can look messy and confusing to readers. 
Generic 
Generic anchor text doesn't include any keywords or points of reference. Users will need to read the surrounding text to determine what it's about. 
Examples:
Use generic anchor text sparingly, as it can come across as spammy. And it doesn't help users or search engines determine what a linked page will be about.
Images
When an image is used as a link, its alt text functions as its anchor text.
So if the image itself doesn't load, its anchor text can still be clicked on.
Here's an example of alt text in action from the University of Dayton:

Just like with traditional anchor text, alt text should be descriptive and avoid excessive keywords. 
Alt text also tends to be longer than your average anchor text because it needs to convey what's in the image and (occasionally) why the image is contextually included in the first place.
Here's an example for a cat scratching post: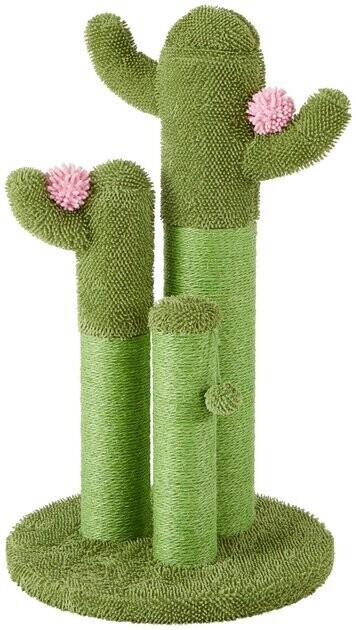 ✅ Alt text: cactus-shaped cat scratching post with pink flowers
Anchor Text Best Practices
Now that we've covered different types of anchor text, let's dive into best practices for optimizing your anchor text for SEO.
SEO-friendly anchor text is:
Brief
Relevant to the page you're linking to
Not stuffed with keywords
Here are a few general rules for crafting solid anchor text:
Make Sure Anchor Words Are Relevant
Relevant anchor text helps Google understand your site structure. Which means it could help your website rank higher. 
Using relevant anchor text also looks more natural to your readers, which means they're more likely to click on it.
That's because Google and human users read anchor text to learn what web pages are about. When deciding which words to use, think about what would create the most natural experience.
But just like with content, there's a fine line between optimizing to include relevant keywords and adding too many keywords.
Here's an example of anchor text that explains to users what kind of page they'll find once they click the link: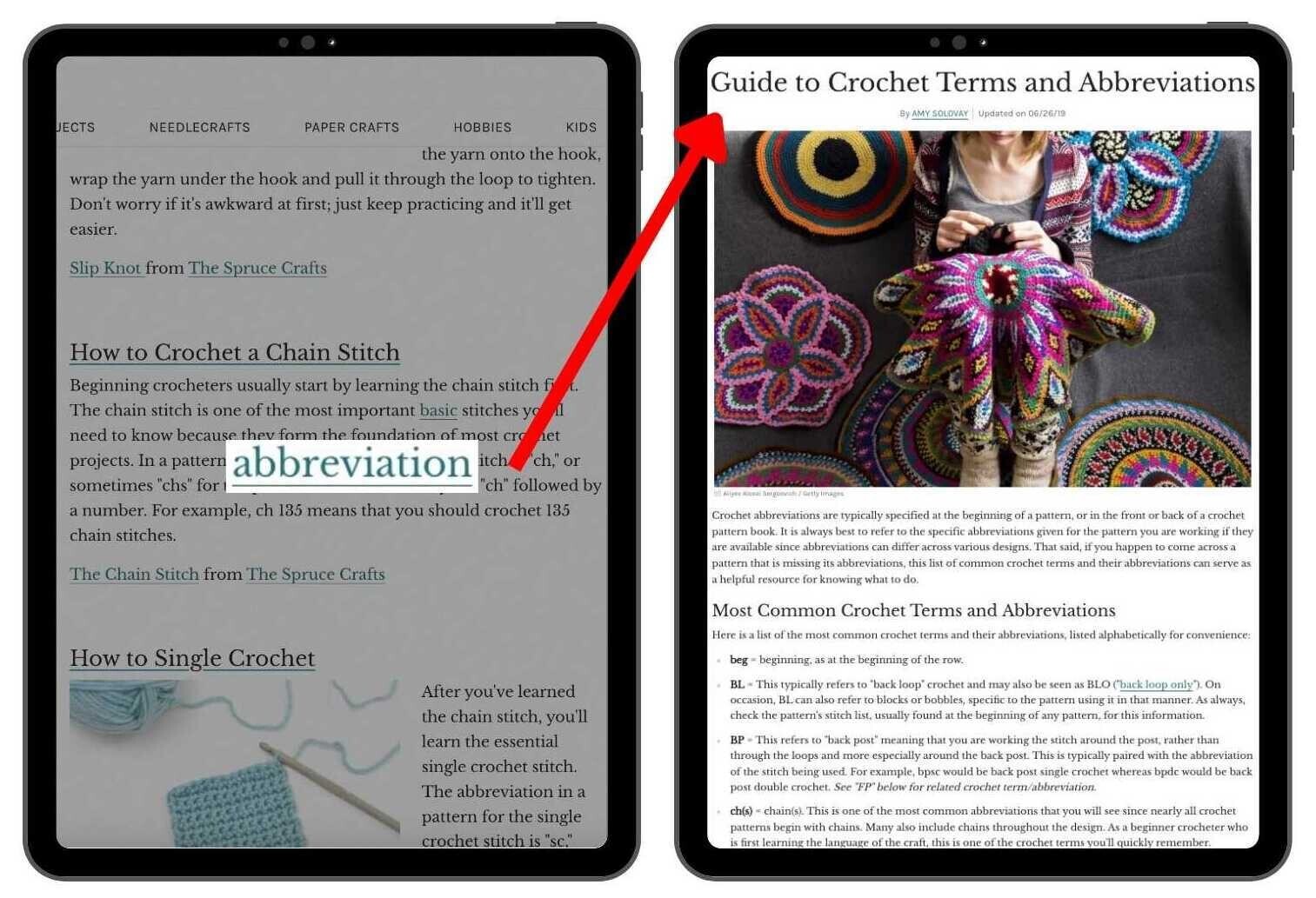 In this example, someone is already reading an article about crocheting. If they click on the anchor text "abbreviation" in the context of the article, it makes sense to direct them to an article about common crochet abbreviations.
Don't Over-Optimize Your Anchor Text
There's no set length guidelines for anchor text in SEO, but it's best to keep it as succinct as possible. We recommend keeping anchor text to five words or less.
As a reminder, Google can view an excess of exact match anchor text negatively. 
For best results, use a mix of different anchor text types. This will sound much more natural.
When coming up with anchor text, ask yourself two questions:
What is the most succinct but descriptive way to describe the linked page?
Would users expect to land on the linked page after clicking this anchor text?
Google gives us an example of what keyword stuffing and over-optimized anchor text looks like:

Linking out at every opportunity makes your website look spammy.
Instead of writing with links in mind, create valuable, interesting content first and then add your links where appropriate afterward.
Here's an example of what a strong paragraph with good anchor text looks like:

When you write with readers in mind, anchor text opportunities naturally present themselves. 
Pay Attention to Surrounding Text
The text surrounding your anchor text can help readers better understand the context of what you're linking to. 
It also gives more context to search engines.
Google's algorithm prefers natural language these days because Google tries to deliver accurate search results based on how users actually type and talk.
So it's important to pay attention to the words surrounding your anchor text.
Think about when you encounter a link in content you're reading. 
You don't only look at the anchor text when you're deciding whether or not to click the link. You'll likely read the complete sentence that includes the anchor text, if not the entire paragraph.
Google does the same thing when analyzing your page.
For example, the anchor text "aiming for 50-55 characters" means nothing on its own as it's only part of a sentence.

On the other hand, the complete sentence—"Though aiming for 51-55 characters increases the odds that Google won't rewrite your title tags"—tells readers and Google that the anchor text is related to title tags.

As such, Google is able to better understand what the linked page is about based on the context of the surrounding sentences.
Fix Alt Text Issues
To check for missing alt text on your site, head to the Issues tab in Site Audit.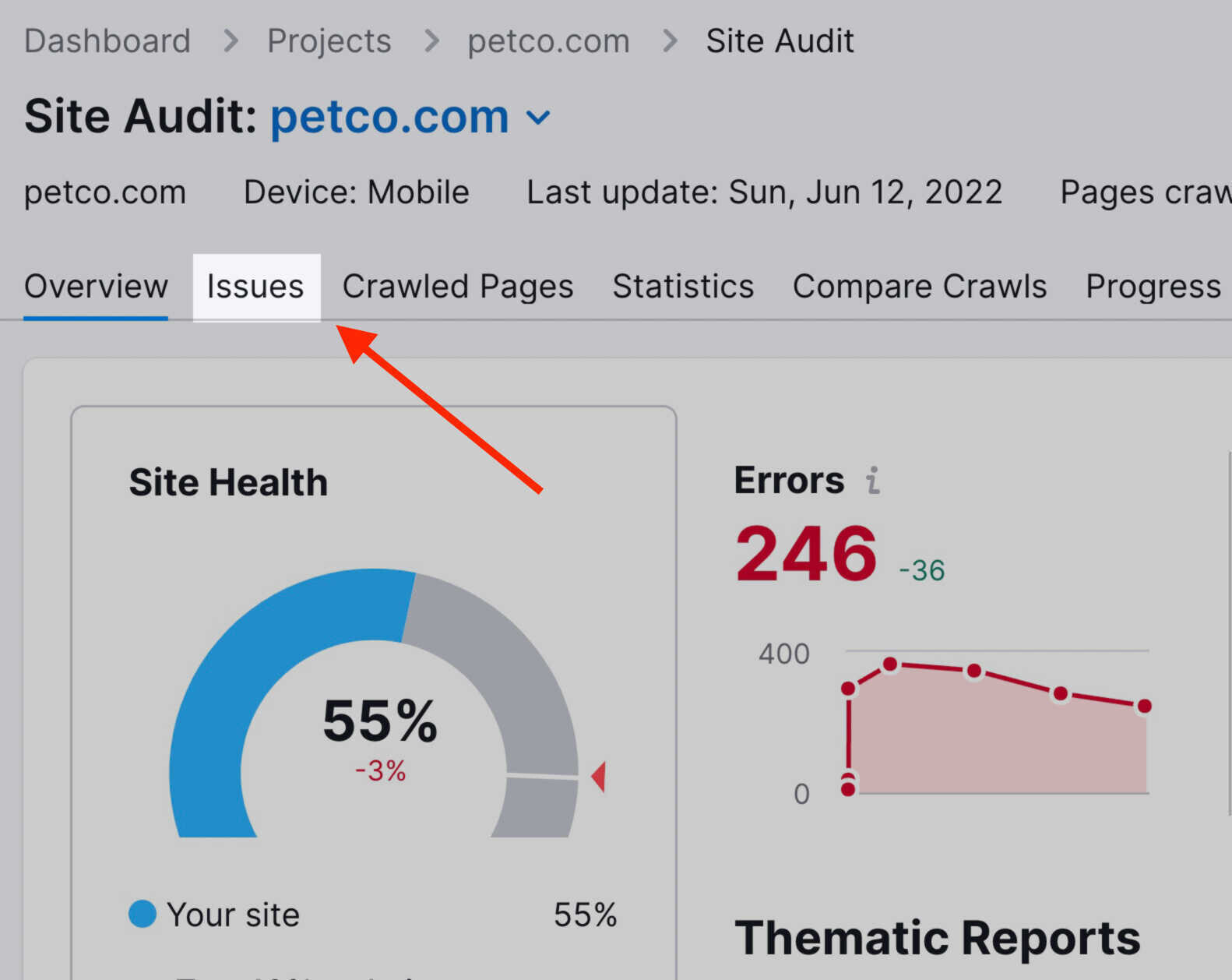 Search for "alt attribute" and you'll see a warning come up that's titled "x images don't have alt attributes."

Click the link ("57 images" here) to find out which image URLs are causing the problem and what page they're on.

Add relevant alt text to each one.
How to Add Anchor Text
In HTML code, anchor text looks like this:
<a href="http://www.example.com">Anchor Text</a>
Content management systems (CMSs) like WordPress let users add, edit, and remove anchor text HTML with a single click. No coding required.
Here's how simple it is:
In WordPress, create a new post and write your content. Then, highlight the words you want to turn into anchor text.
From there, click on the link icon in the text formatting bar.

Insert your target link in the space that pops up and your plain text will turn into anchor text.
After you hit publish, your anchor text should appear on your page with a different color to indicate that it's clickable.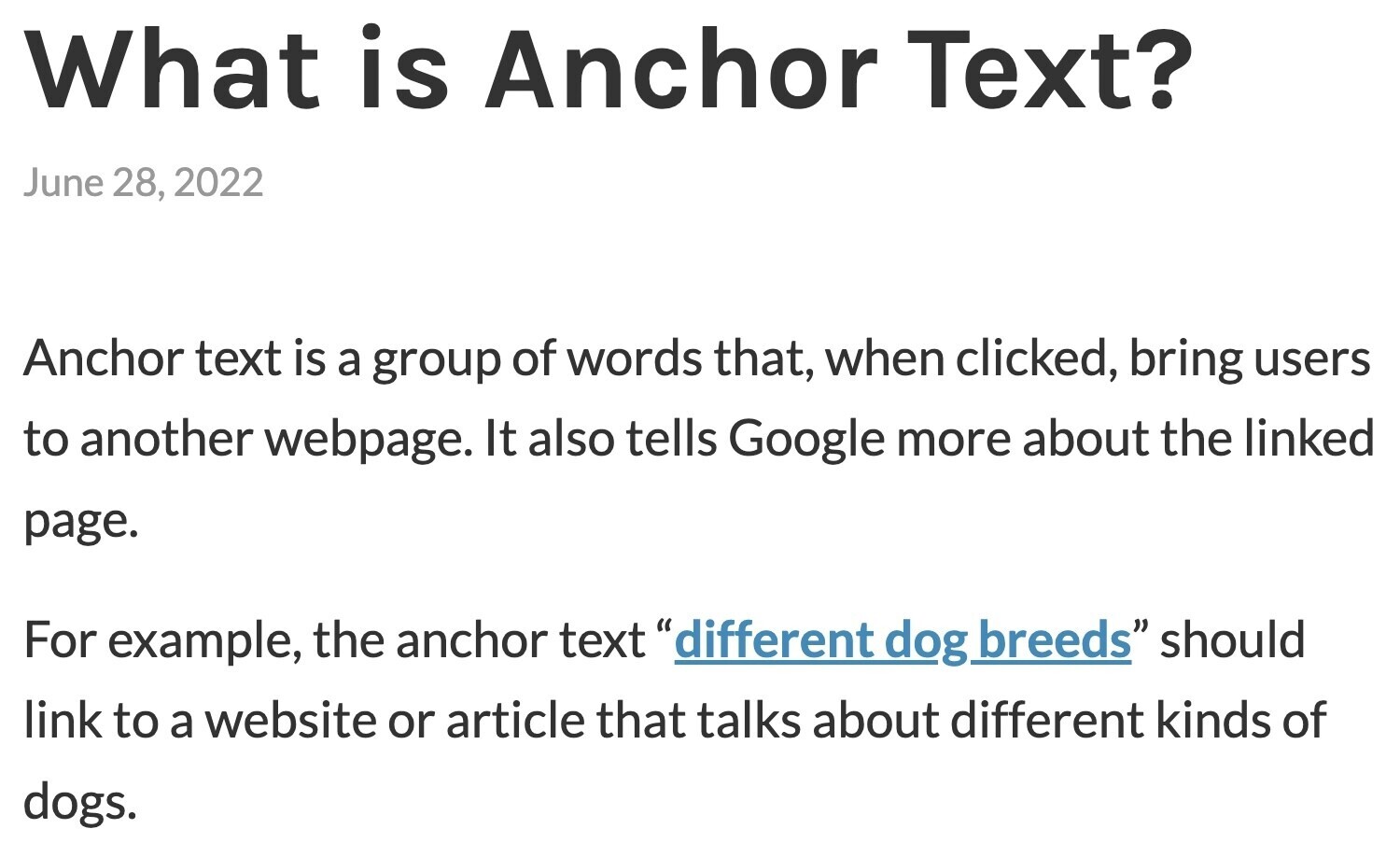 Don't use WordPress? 
The process is similar for other CMSs like Wix, Squarespace, and Shopify.
How to Find & Fix Anchor Text Issues
While anchor text errors won't break your site, they will create a poor user experience and make it difficult for Google to understand what you're linking to.
You can use Site Audit to find and fix these errors. 
Here's how:
Navigate to the Site Audit, enter your domain name, and click the "Start Audit" button.
In the window that pops up, configure your settings based on the number of pages you want checked. Then, hit the "Start Site Audit" button.
When the audit is finished, enter your report by clicking on the project name.
Then, click on the "Issues" tab at the top of the screen.
You'll see a full list of possible Issues, Warnings, and Errors. 
Type "anchor" in the search bar to filter by anchor text issues.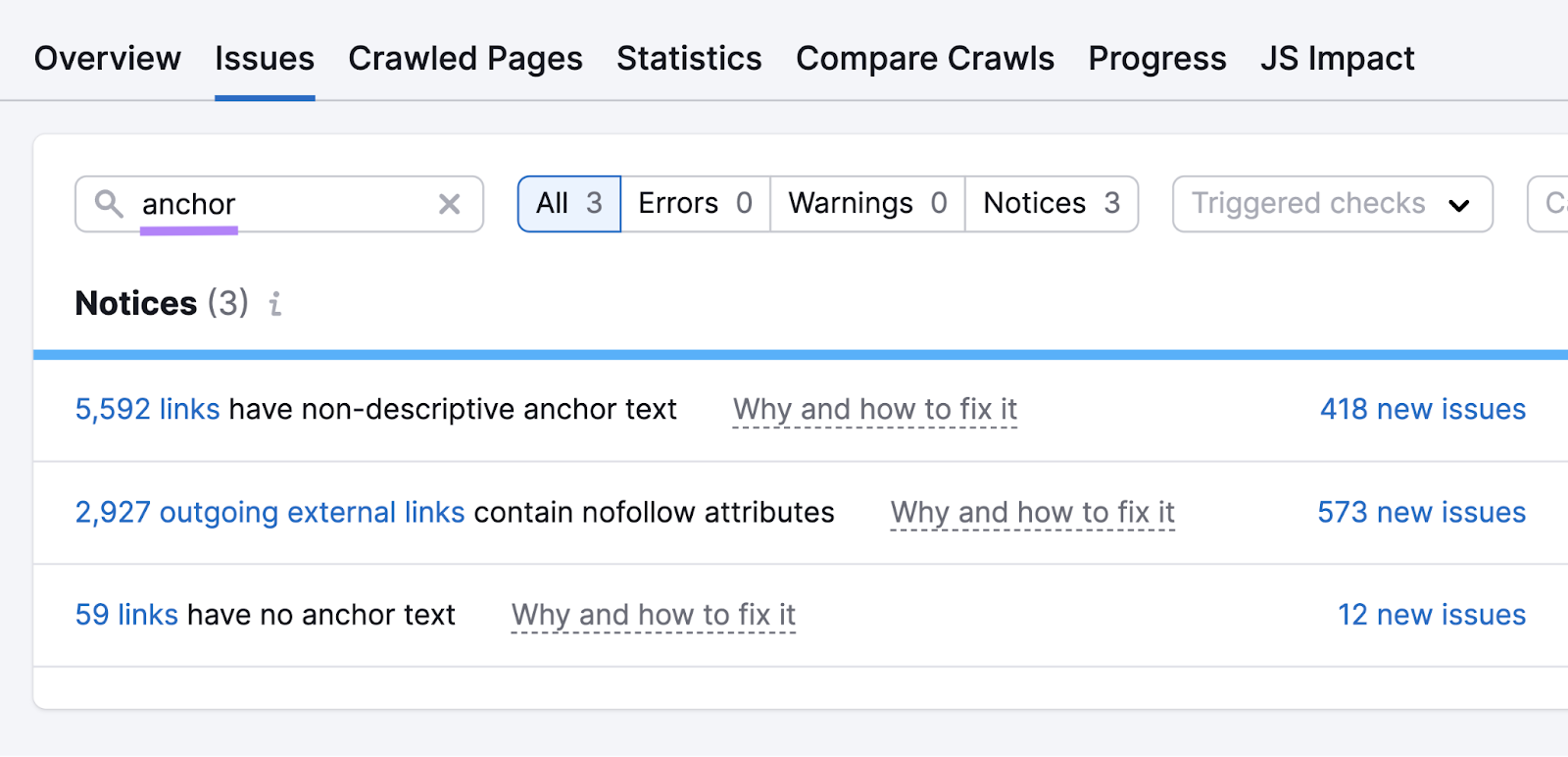 Three notices may come up: 
"# links have no anchor text": links that have empty or naked anchor text 
"# links on this page have non-descriptive anchor text" links that use generic anchor text or don't provide enough context for the page they're linking to 
"# outgoing external links contain nofollow attributes": links that don't pass any link authority to referred webpages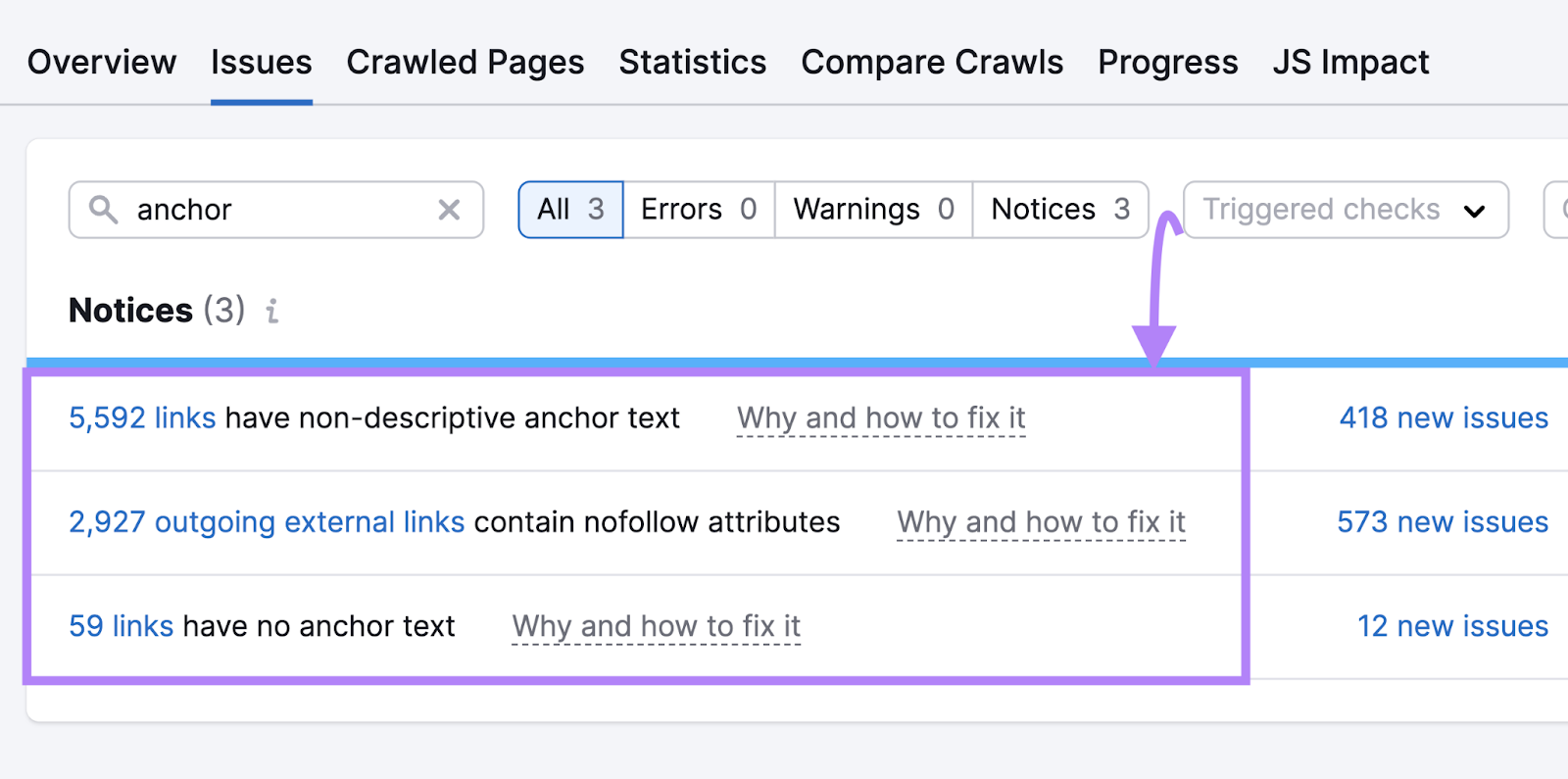 Click on each of the links to see each issue and what page it occurs on: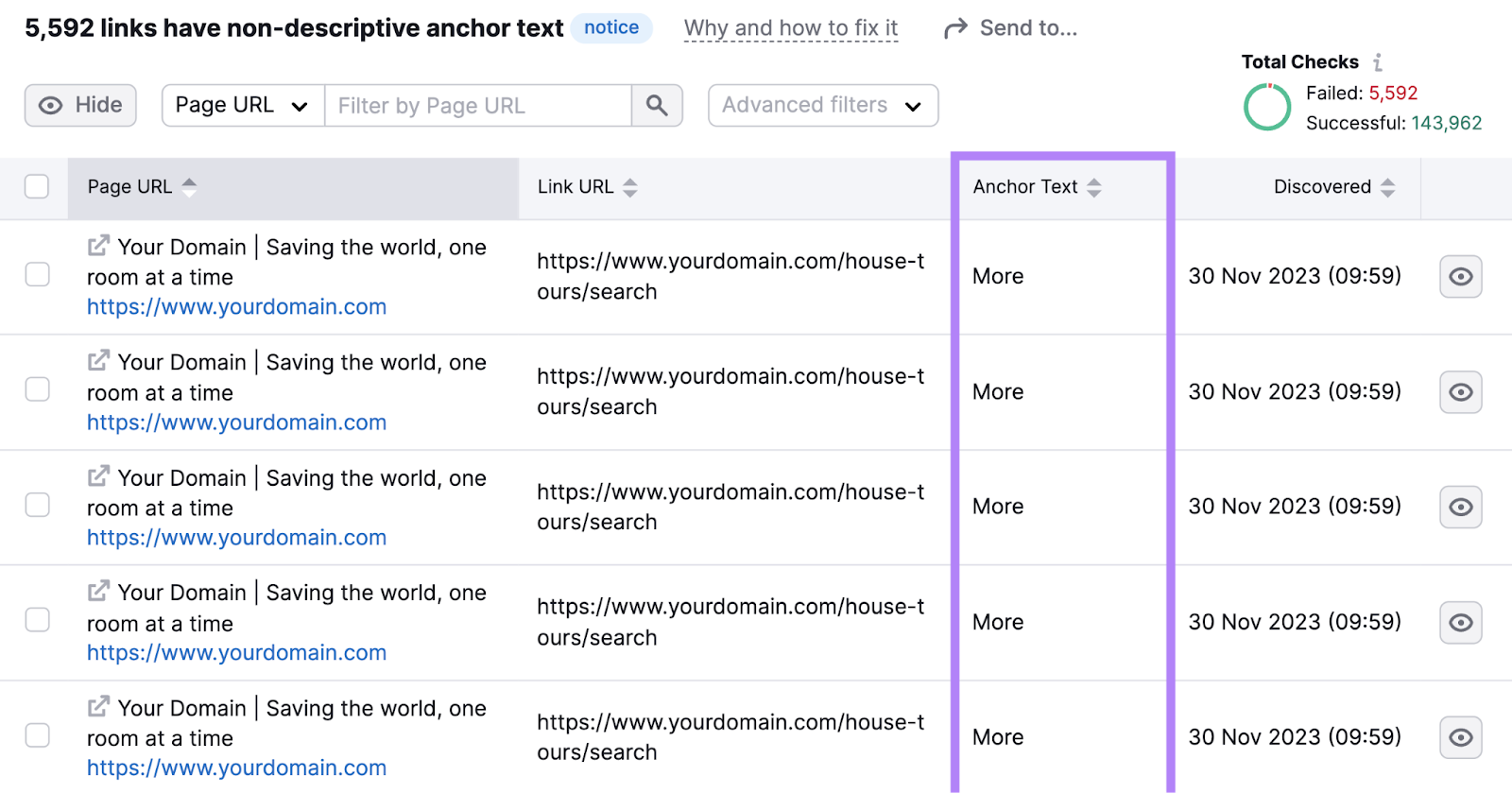 Log into your CMS and use this information to fix any problems with your anchor text. 
When you next run your Site Audit, these fixes will be reflected in your report. 
Stay on Top of Your Anchor Text
You're not done yet. 
Anchor text optimization is an ongoing process that needs constant attention and analysis. Especially if you regularly publish content.
One of the best ways to stay on top of your anchor text is to set up automatic weekly reports.
Here's how:
Within Site Audit, click the "gear" icon on the top right and select "Schedule" under "Site Audit settings."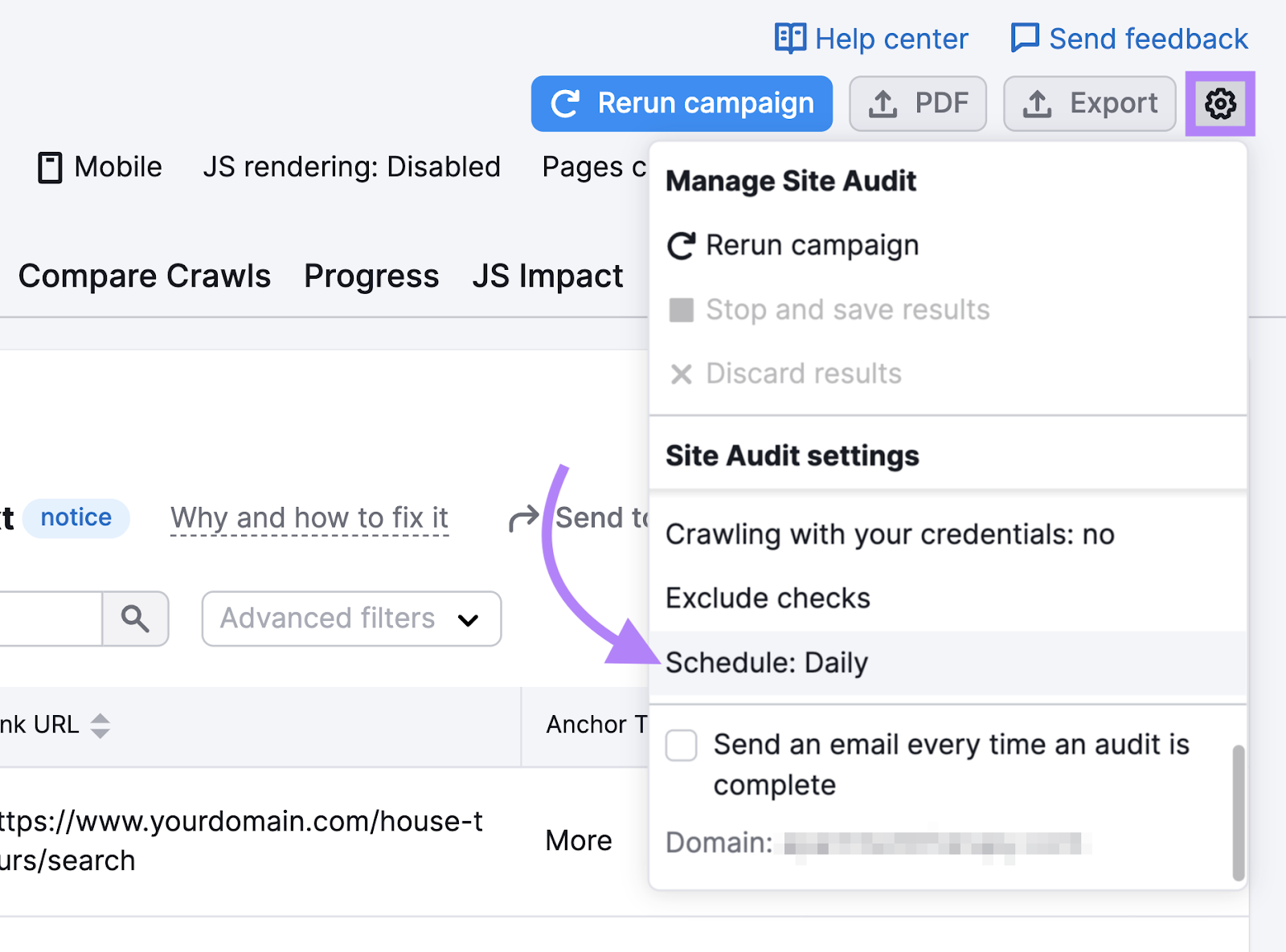 Then, click the dropdown and select your preferred day of the week for the tool to automatically run an audit. 
Check "Send an email every time an audit is complete." And hit "Save."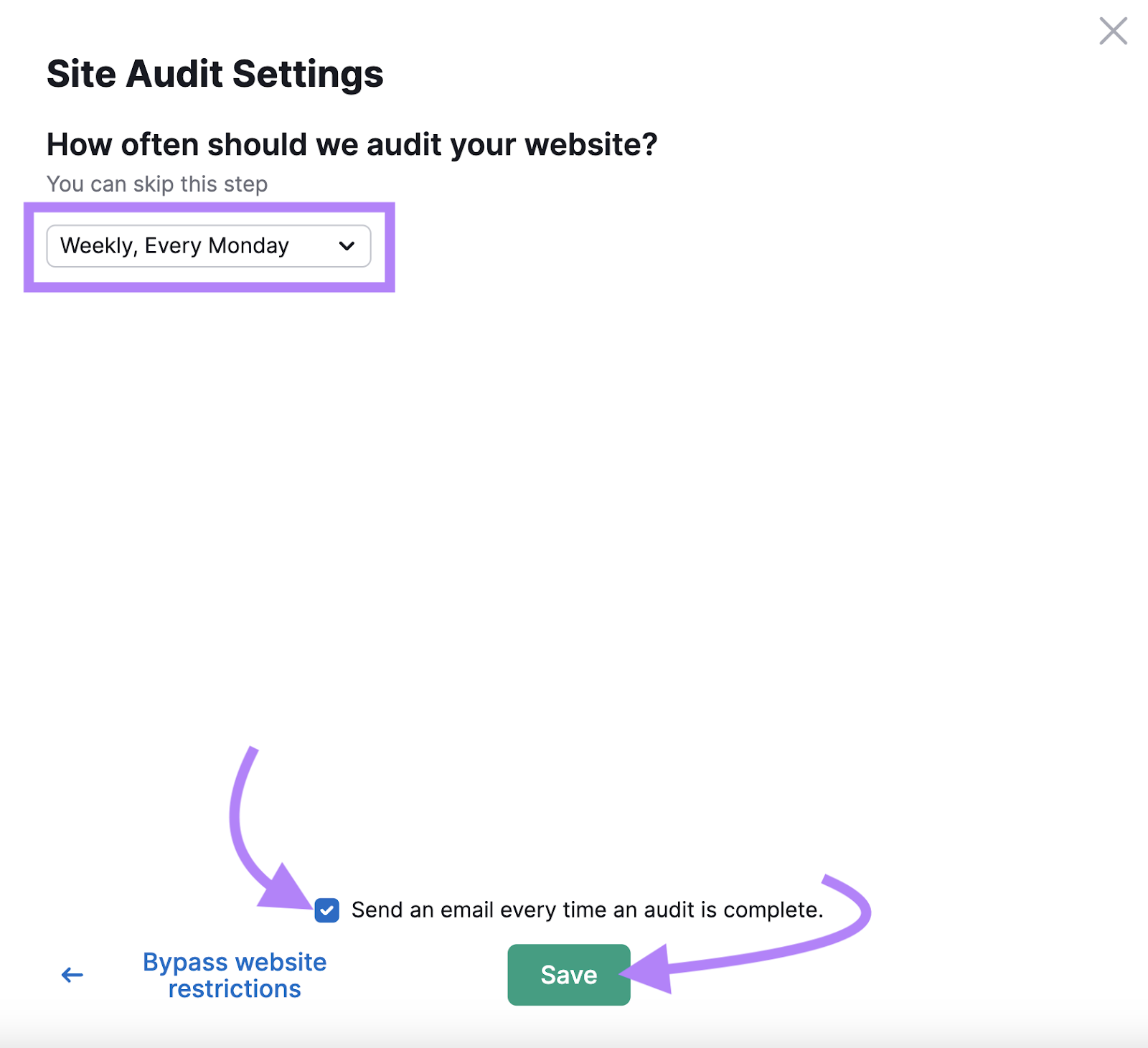 You're all set. 
Now you can stay on top of your anchor text and keep your website healthy, authoritative, and user-friendly.